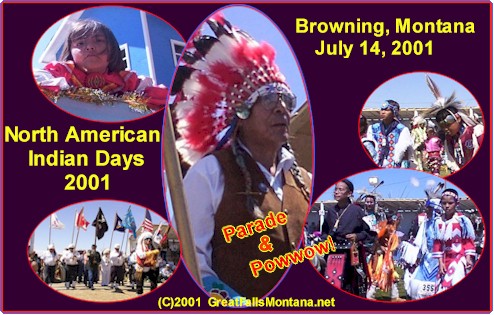 Browning, Montana
2001 North American Indian Days
Parade and Powwow
in the heart of Blackfeet Territory

You've already seen the Browning Powwow from 2000! If you haven't, you can get it at my auctions.
Now's your chance to see the 50th Annual North American Indians Days celebration in Browning, Montana on two 2-hr VHS video Tours of Montana.

July 14th, 2001 and the celebrating begins with a parade in downtown Browning. Many of the community's interests are represented in the well-attended parade that has an unexpected attraction when a little boy is run over and hauled off in the ambulance that was seen earlier in the parade.

A little behind schedule, the Grand Entry features Montana Governor Judy Martz, Montana Army National Guard Major General Pendergast and later in the day, an appearance by Oklahoma native and rap artist, Litefoot!

This is the largest Inter-tribal powwow in the area, bringing dancers and drum teams from as far away as Arizona, Oklahoma, Minnesota, Canada and beyond! Tiny Tot, Junior Boys, Junior Girls, Teen Boys, Teen Girls with traditional and fancy dancer competitions; Jingle Dress dancing, Chicken Dancers, Grass Dancers and lots of other competitions. Miss North American Indian Days Princess, Miss Blackfeet 2001-2002 and many more exciting features round out a hot and blistering day under the Big Sky.

Chief Earl Old Person is the Master-of-Ceremonies for the day of competition.

Kenny Gopher gives the invocation in his native Cree tongue.
White Feather drum team gives the Canadian Flag Song.
Star with the American Flag Song.
Address by Montana Governor, Judy Martz.
Addresses by Blackfeet Councilmen Leo Kennedy, Ervin Carlson and Hugh Monroe.
Address by the Commanding General of the Montana Army National Guard, Major General Pendergast.
Special appearance by Litefoot!

---
---