Several speakers at a "unity rally" on the steps of the Great Falls, Montana Civic Center protested that Indians in Great Falls and around the state are unfairly targeted by police, disproportionately punished by the courts, and are subject to discrimination in housing and employment.

Joe Azure of Fort Belknap told the group, "What we need to do as citizens is balance the scales of justice. We're seeing inequality of justice based on racism."

Debbie Hamm of Great Falls tells of her son who's been locked away in prison for 14 years and who has been passed up for parole 7 times.

Mary Gopher, another Great Falls resident, speaks about her fight to get her children back. There is discussion about the lack of adhering to ICWA (the Indian Child Welfare Act).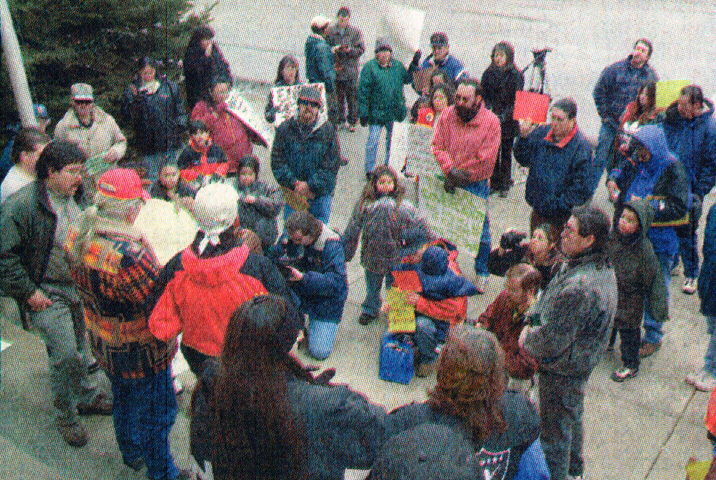 Alexanrda New Holy, a professor of Native American Studies at Montana State University in Bozeman, says a study that she completed, at the request of the governor's office, shows that Indians are sentenced to longer prison terms than non-Indians are for the same crimes.
Other speakers, introduced one-by-one by the rally organizer, Brock Conway, spoke to a variety of other issues:

A federal investigation into the Great Falls City Commission's use of federal funds intended for Indian purposes - a claim that $20,000,000 has come in but only $150,000 has been used for Indian programs.
Discrimination against Indian firefighters. Inadequate gear, poor housing conditions (non-Indians are put up "in hotels and water beds" while Indian firefighters camp out in the cold. Warrant checks on Indians as they report in to serve firefighting duty is another claim.
Compliance with ICWA is another issue brought to light.

Many other speakers and many other issues are presented here, from "ethnic cleansing" efforts to unfair treatment of Indian children in the schools, unedited in its entirety* from the opening song to the closing singing of the Indian National Anthem.

* (The opening prayer is excluded at the request of the rally organizer and out of respect)