---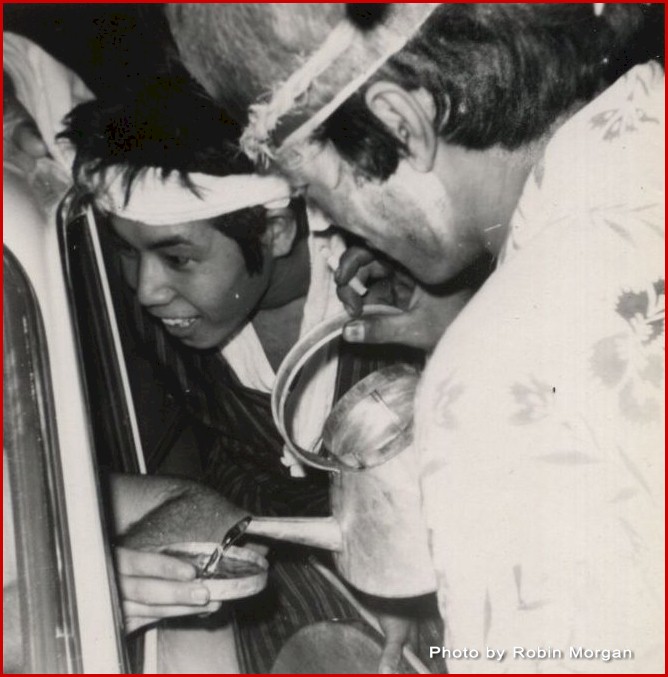 [captioning by Robin Morgan]
Obon Festival 1967
Place is in a street in a small town / village north of Koza, I think. The street was not paved. There were lots of folks out in the road.
Date is October ?, 1967
Person is - one of hundreds of revelers dancing in the streets and dressed in traditional Okinawa costume and dispensing warm saki to bystanders. We went out as a group of six Marines, (two skoshi-cabs) to have a look at what we had heard about from our bus tour guide as a very important day to the Okinawa people. On the tour to the north of Nago where we saw a village of straw roofed, open-sided huts with electric lines and TV antennae. Nearby there were traditional burial sites on a hillside. We were informed that the burials were in small caves with rocks covering the entries. We could see the many cave from our bus. We did not leave the bus to get a closer view as I suspect that would have offended the nearby villagers. Matter of fact since I don't find any photos of the burial caves, I might offer a guess that we were requested to abstain [from taking pictures] there also. We heard of the ritual of Obon, in which a young person of a family is charged with the duty to enter the cave to wash the bones of their ancestors. I can only recall that I mused on the thought that one could just imagine the response there would be if a kid in America was asked to do this. Meanwhile back on the village scene with the reveler and the pot of saki. This village was near where a giant tug of war takes place between the residents of neighboring villages. I may be meshing two different events together here since I didn't find any photos of said tug of war. The celebrants (with saki or without) were all very friendly and welcoming to all of us.
---
ClickOkinawa.com 1996-2010
S.A. Mick McClary - Kichigai-no Design
P.O. Box 6245, Great Falls, MT 59406