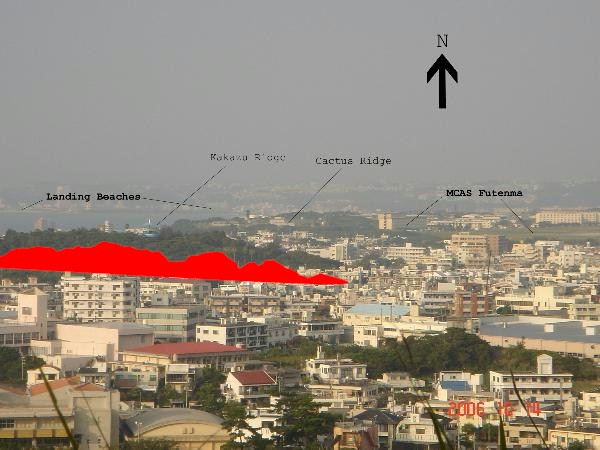 ...and now with the overlay.
Giving consideration for forest overgrowth and the very real liklihood of differing angles of each photo, combined with Jeff's advice regarding the scarcity of ridges that run East-West on the island, I'm pretty convinced that Tom Forin was somewhere on the same coral ridge as the photographer of the more recent photo and that it is indeed Kakazu Ridge. Also, the distance seems to me to be about the same from the ridge wgere Tom was back to the ridges behind.
That makes sense too when you consider where a young GI might want to go to get his picture taken in a location of some historical consequence. That said, of course, just about anywhere on the island is indeed of historic consequence. But, trying to put myself back in the mind of a young GI, I think it makes sense.
Click NEXT
---
ClickOkinawa.com
P.O. Box 6245, Great Falls, MT 59406