bahn sho) is a restoration of a michi-no eki, or road station. It stands on the same spot as the original banjo.

The original banjo was built in the 1600s and served as a rest stop of sorts along the road from Shuri to Yanbaru (the northern region of Okinawa Island). It was in this michi-no eki that official government activities were conducted, records maintained, and trade was carried out. It was the village's center point of cultural activities as well.

Having been destroyed in 1945, during the Battle for Okinawa, the site was restored in 2005. With the plan being to reconstruct the banjo as closely as possible to the original structure a man by the name Souten Okuhara was contracted to produce the gray roof tiles. He is the same man who did the tile work for the restoration of Shuri Castle (Shurijo).

It is not a retail operation. There is no souvenir shop or restaurant at this location.

A very helpful woman, a staff member of the banjo, gave me this Yomitan area guide which proved inspirational and invaluable to me in my exploration of the peninsula.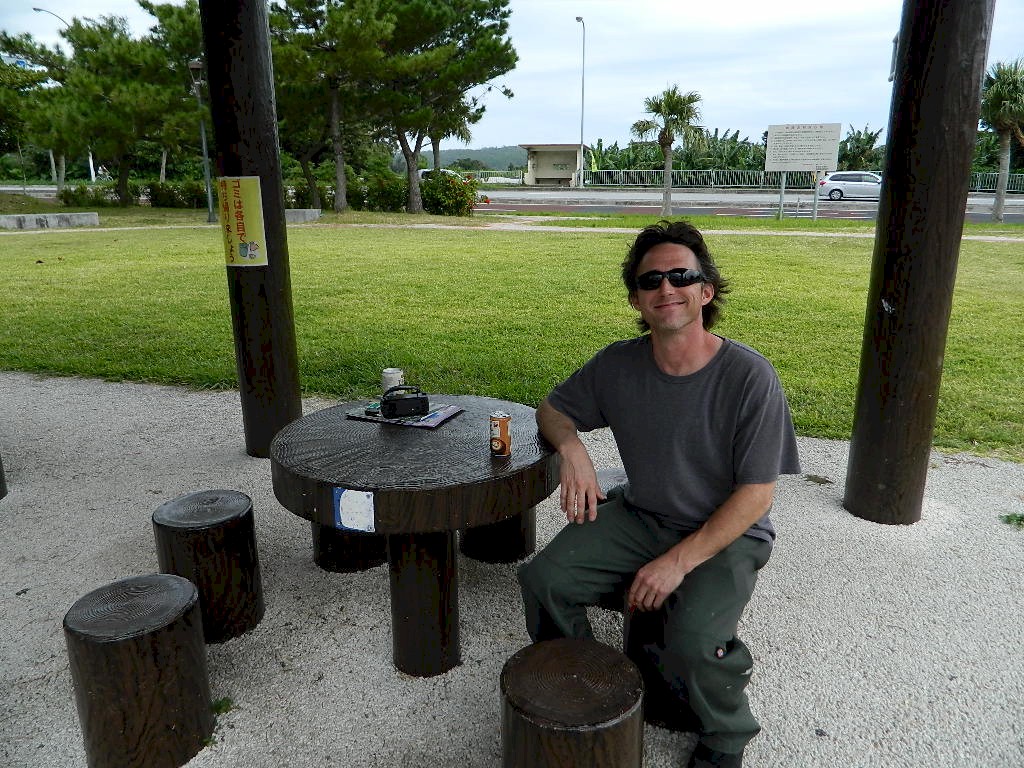 Zac sitting at the covered patio adjacent to the Kina Banjo

TSHAN-DI-COO-SAH LEW CHEW

Commodore Matthew Perry stopped here and enjoyed a cup of tea in 1853. The American flag is displayed as a result of a forward party having placed it temporarily in preparation for Perry's visit. After he and his party had lunched at Kina Banjo the flag was removed and taken along as the party proceeded north.

Perhaps the artist can be forgiven for his inaccurate coloring of the red roof tiles. There is documentation attesting to the fact that the tiles of the original road station were gray and not the traditional Ryukyuan red.
---
Michi no Eki Kina Banjo
2-1 Kina, Yomitan-son, Nakagami-gun, Okinawa, Japan
Telephone: 098-958-2944
Operating hours: 9:00 a.m. - 6:00 p.m. Closed on Monday
Admission: free
---
---

1996-2015 ClickOkinawa.com