<!xxxxxxxxxxxxxxxxxxxxxxxxxxxx COLUMN ONE xxxxxxxxxxxxxxxxxxxxxxxxxxx> While walking around town you will eventually happen upon a restaurant with displays in their window of some of their menu items. Those tempting dishes invite hungry passers-by to start salivating, especially when hungry. Even if not hungry it's hard to pass the window without starting to drool over those bowls of ramen, plates of katsudon or bowls of beautifully crafted ice cream!

I used to wonder how many times a day they had to put up "fresh" samples, and how long it takes for their samples to wilt, dry out or otherwise become un-tempting. Little did I know back then that those delectible dishes never wilt, dry up or "go bad."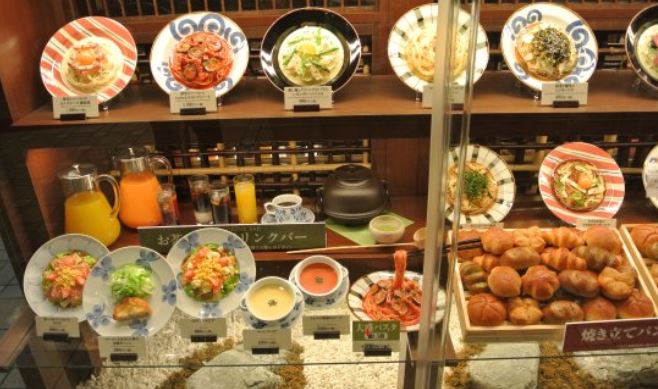 photo source: https://www.tripadvisor.com/LocationPhotoDirectLink-g298158-d1580220-i266822564-Mitsui_Outlet_Park_Makuhari-Chiba_Chiba_Prefecture_Kanto.html
Known in Japan as sampuru, or "sample," this waxy, fake food has been around for nearly 100 years and, over time, has evolved beyond restaurant windows. Nowadays, you can get this fake food in any form you want: keychains, flash drives, cell phone charms, and even fake food iPhone cases.
These models don't come cheaply either. I mean, it's not like going to you favorite hobby store and buying a $15 kit. Nope. They're expensive and a restaurant would have to sell a LOT of ramen, prawns and Napolitan to make up for what they spent on models of ramen, prawns and Napolitan!
<!xxxxxxxxxxxxxxxxxxxxxx COLUMN TWO xxxxxxxxxxxxxxxxxxxxx> One nice thing about the food models is that you don't have to be able to read kanji - just point and grunt! Well, maybe don't grunt.

The art of creating food models began with the use of wax. Although wax is still a major component of food modeling it is now common to see them made using vinyl resin (non-biodegradable polyvinyl chloride (PVC)), and silicone.

Fake and replica foods are used in many ways, such as props for backgrounds in movies, television shows, theatrical plays, television commercials, print ads, and trade shows. Fake foods are also used to display lifelike replicas of real foods for restaurants, grocery chains, museums, banquet halls, casino buffets, cruise ships, and in many other instances in which real foods cannot be displayed. For instance, the American company Fake Foods began when fast food restaurant Wendy's needed artificial kale for their salad bar display.

In the 2010s, models of foods and dishes were used for nutrition education and consumer research.

In North America, fake food is often used for retail displays. Furniture retailers use it in showrooms (such as a bowl of fake apples) to give their furniture settings a lived-in look.

Artisans and highly trained craftsmen make realistic fake food, often painting them by hand to create a realistic look and feel. When fake food is made using a mold, the mold is created by dipping real food into silicone. A liquid plastic, typically polyvinyl chloride, is chosen in a color that matches the food, before being poured into the mold and heated in an oven until it solidifies. After setting for ten to thirty minutes, any excess vinyl buildup is trimmed off, and the replica is painted either by hand or airbrush. If the food comprises several parts, such as a hamburger or sushi roll, the item is assembled from separate vinyl pieces. When a food sample is not available or would disintegrate or melt in the mold during casting, a clay model of the food must instead be sculpted.

Here's a video that tells you a lot more about food modeling. Fake Food in Japan Plastic Food Sample Japanology, by Mellow in Japan.

References:
https://www.tofugu.com/japan/sampuru/
https://www.tsunagujapan.com/must-try-experience-the-japanese-craft-of-making-fake-food-at-kappabashi-asakusa/
YouTube - https://www.youtube.com/watch?v=VlEXeJBry2U&t=181s
https://en.wikipedia.org/wiki/Food_model
NHK World - https://www.youtube.com/watch?v=YULgJf_48FQ