<! TEXT ............TEXT ...................TEXT ....................TEXT > After having checked in at Okuma for a few days stay we debated what things "up north" were on our itinerary. The nice thing about this trip was that there WAS no itinerary. No schedule. No obligations. Our only mandate was to have a good time exploring and doing whatever we darned well wanted to. The weather this day was a major factor in deciding what to do. It had to be something indoors. Hence, it had to be the Churaumi Aquarium.

We had lived on Okinawa back in the '70s when Expo '75 was being developed and constructed. At the time DyLon was all of two years old and also, at that time, there was no huge aquarium as there is today. So this was to be a great adventure! I was at the aquarium back in 2014 but this year's trip, especially the first 10 days was all about DyLon since he'd be leaving on the 9th to return to his work.

Getting to the aquarium was fun and full of "ooops!" and turn arounds as I had forgotten to bring the map and was navigating by sheer memory. Well, now we know better than to depend on my ebbing memory! I know that not everyone enjoys windshield tours but some of you do. For you who do like to ride along there will be an opportunity for you to do that at the end of this page. That will be the road trip, on a rainy day, from Okuma to the Aquarium.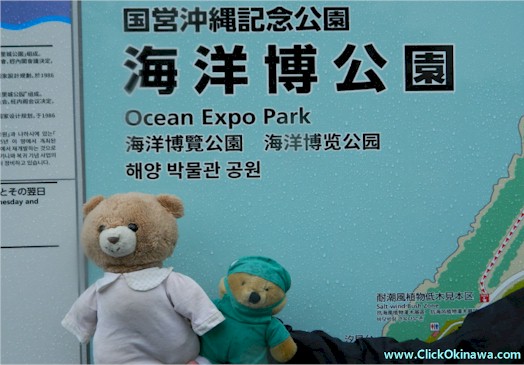 photo: Mick McClary
We begin, of course, with Dr. Bung. This year Bung had the pleasure of taking his new friend, Kelly, along. Kelly is with us courtesy of her "mommy" Christina who lives in Arizona. After collaborting with her father, Bill, and his daughter it was decided that Kelly would accompany us on this year's Okinawa jamboree.
The last time I came here I must have used a different entrance because it all looked new to me when we got through the doors. (Remember me and my failing memory! HehHehHehhh...)

Videography by DyLon McClary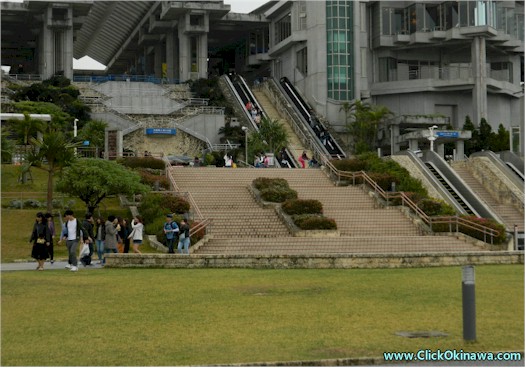 photo: Mick McClary
One view of the massive aquarium complex.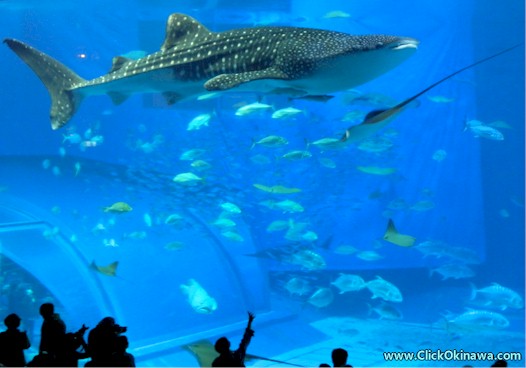 photo: Mick McClary
We've all seen lots and lots of photos of the aquarium. They are abundant on the Internet so I'm not going to bore you with photos of things you've seen before or may see with a simple Google inquiry. I will however include a few that DyLon or I took that are a little more unique.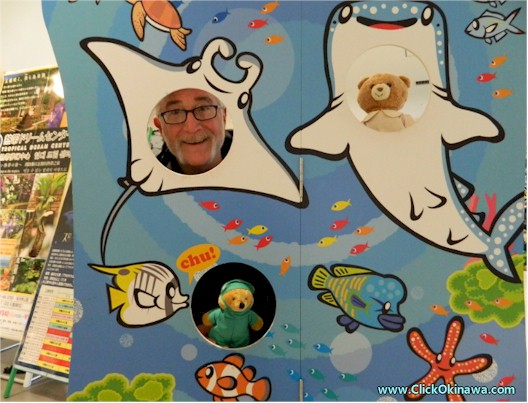 photo: DyLon McClary
You don't get any more unique than that!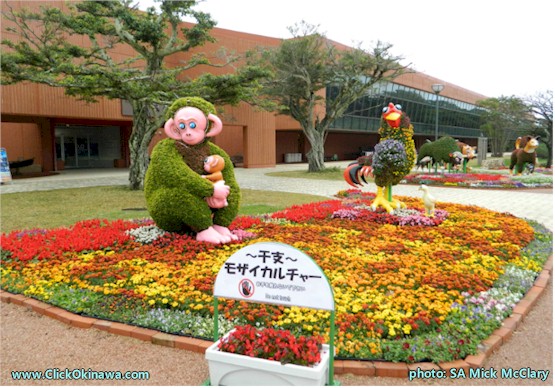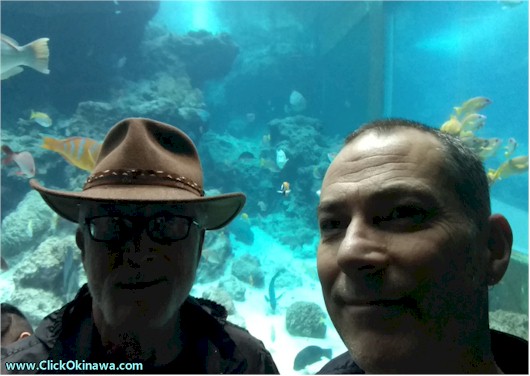 photo: DyLon McClary
The following is DyLon's video recollection of the day.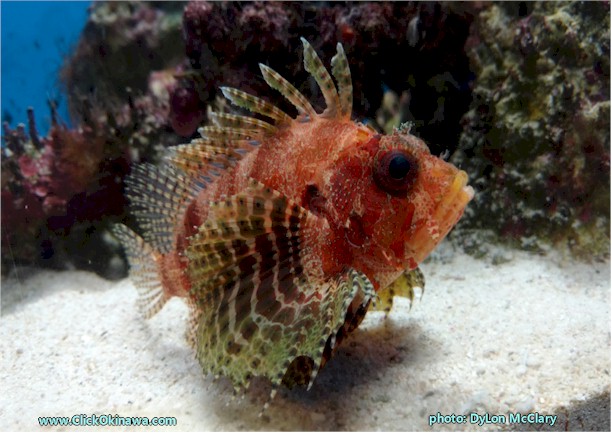 Now, let me share my own video-recollections of the day:
<! TEXT ............TEXT ...................TEXT ....................TEXT > The Churaumi Aquarium was borne out of a marked reduction in tourism following the 1975 Ocean Exposition (Expo '75) on Okinawa's Motobu Peninsula. Authorities on Okinawa considered that enlargement of the then-existing aquarium would enhance tourism and enhance Okinawa's long history of marine tradition. The new aquarium was designed by Yukifusa Kokuba and opened on 1 November 2002.
The name Churaumi was selected by popular vote. Chura in Uchinaaguchi (ancient Ryukyuan language) means "beautiful" or "graceful" and umi is Japanese for "ocean", hence the graceful and beautiful ocean.
The aquarium complex contains seventy-seven tanks. Fresh sea water is pumped into the tanks 24 hours a day from a site some 350 meters off shore. The main tank, named The Kuroshio Sea measures 115 ft in length, 89 feet in width, and 33 feet in depth and holds just under two-million gallons of water.
---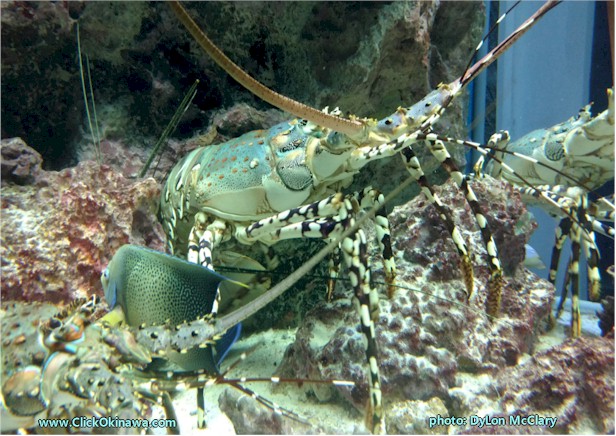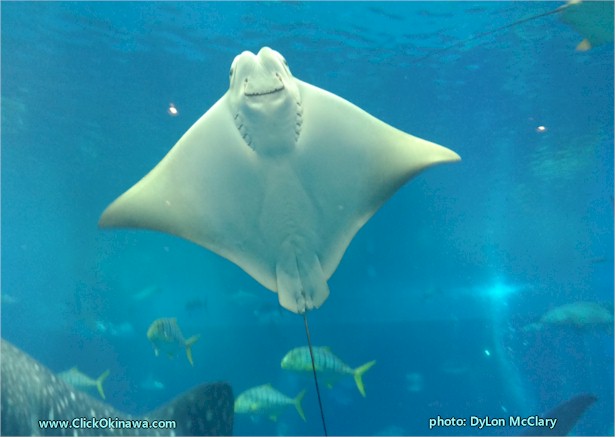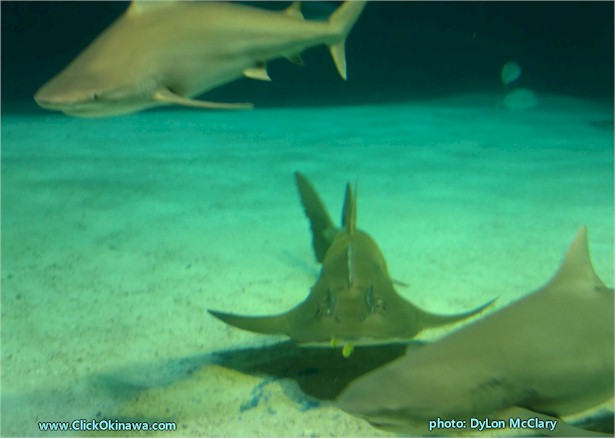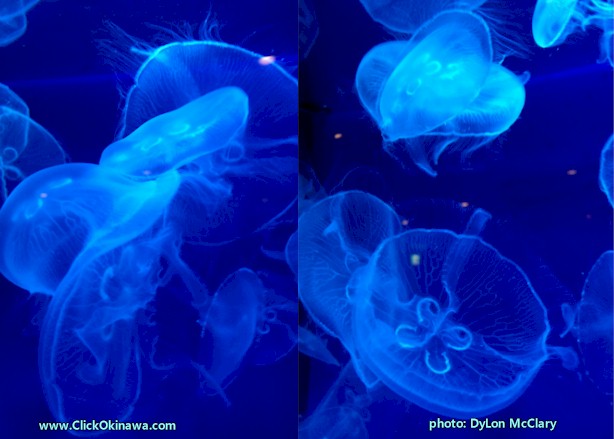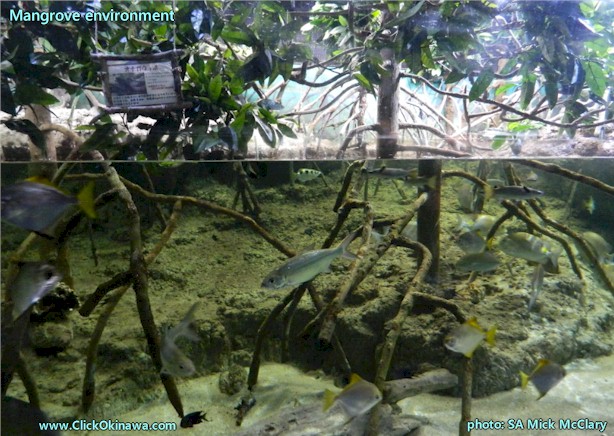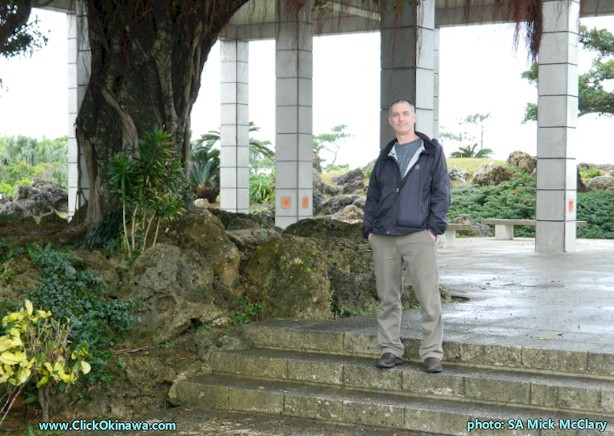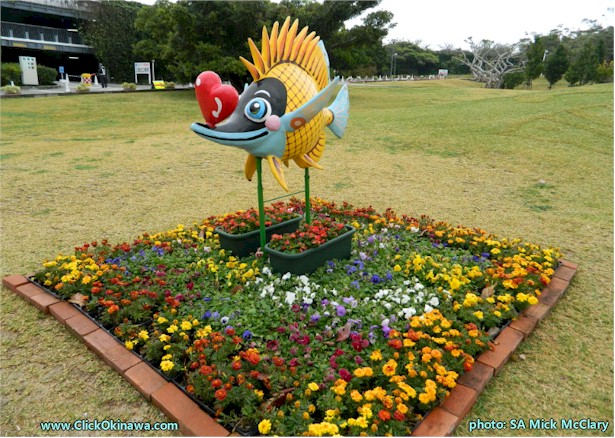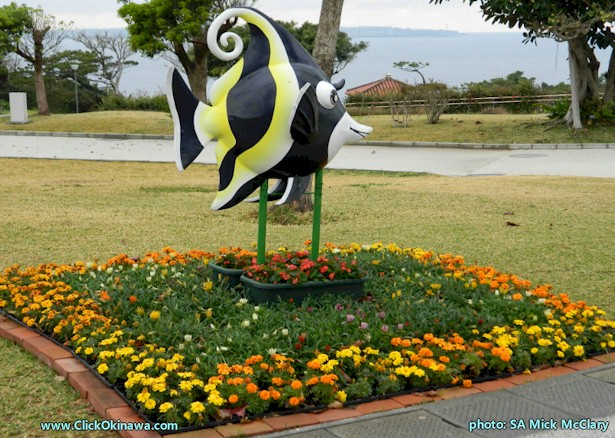 And finally, if you like riding along on my road trips you might enjoy this rainy-day drive from Okuma to the Aquarium:
At 28:10 in this video I missed my turn - should have gone left instead of straight thru to the right. Tsk! After that it was one mistake after another - but we made it.
My visit to the Aquarium in 2014.
If you want to skip the photos, go straight to the Video from 2014.
---
---
Back to ClickOkinawa.com

©2017 Contact: ClickOkinawa.com