Sept 22, 2010; 5:59p.m. Central
Departed Great Falls this morning with fog and temperature around 48-50, depending upon what part of town. Plane departed on schedule and enjoyed an uneventful flight into Minneapolis. If you've ever been thru the Minn-StPaul airport you know how massive it is. Fortunately the layover was plenty adequate to walk (and ride the people-movers) the 57 acres it seemed to get to the gate for my connecting flight.

Feeling hungry, I poked my nose into a little restaurant - one of those everything behind a glass case, pre-packaged and outlandishly expensive. I stood there looking at what appeared to be a fairly fresh egg salad sandwich. Remember I was hungry. $6.95. Hmmm... might be worth it if I ate the sandwich, the garnish AND the cellophane and price tag. But then, common sense prevailed. I was hungry, not stupid. Maybe just a drink then. Almost three bucks for a bottle of soda pop. Nah!

Found a vending machine that rewarded me with a decent-size bag of pretzels for a buck and a half and another machine juxtaposed to that which gave up a big bottle of Diet Coke for a mere $2.50. The pretzel machine was fun. I put in 2 one-dollar bills, punched C-6 and watched the screw move the soon-to-be-mine bag of pretzels forward to the brink. I was waiting for the coil to abruptly cease motion just as the bag was about to fall. But it fell and I was happy. Then came the wait. And wait. and wait.... for the 50-cents change. Nothing happened. I looked at the "message center" of the machine and it announced that I had a fifty-cents credit! What??? So I just started pushing a whole buncha buttons and I either hit the right one or somehow, by the grace of God, hit the right combination of multiple buttons, but in the end the machine relented and grudgingly spit out two quarters. So, that was lunch. Thanks to Debb's shrewd planning though, I was destined not to starve. She packed me up with a bunch of nutrition bars, granola bars, etc. in order to sustain my life during the journey.

Thanks, Debb, they were good.
So, I caught my flight and got into Nashville on schedule. Big place! 90 degrees outside the terminal. Figured out right away that I have little use for the jacket that I popped on this morning in Great Falls, Montana. I've never been to Nashville. Now I've said it. If I ever say that again it'll be a lie. Caught the Grayline to the hotel and checked in.

What I saw of Nashville during transit looks like any other big city. Nice, ritsy downtown areas; commercial areas; a bit of a grungy-looking area, then back into nice territory again. I'm gonna enjoy the few days that I'll be here. The rest of the gang will be showing up tomorrow, the right day of arrival. What a goof... I posted the information about the reunion including THE DATES! but muffed it when I called for reservations at the hotel. So, I get here a day early - no biggie. I'll have a leisurely evening and wait until tomorrow when Joe and the rest of the boys chide me for such good planning.

The hotel is nice. bed, bath, kitchenette and living room. The water tastes great too! No chlorine. More later.
Sept 22, 2010; 8:04p.m. Central
Took a short walk around the area. Found a little hole-in-the-wall market, J&J's Market and Cafe. Nice little place that reminds me of the mama-san shops on Okinawa. Of course, I had to pick up a few things - an orange and some bowls of NongShim hot & spicy noodles and some Udon noodle soup. They're okay, but not even a hint of the real deal. On the walk back from the market I encountered a herd of, shall we say, young adults, standing on the side-walk, gawking up watching a girl climb up on a porch roof and rip the screen off of a window. Looked like an odd way to get into the house, then made me think I ought to take a little longer look around the neighborhood of this hotel. Hmmmm....
Well, will check e-mail and probably get some sleep in a while - been a long day.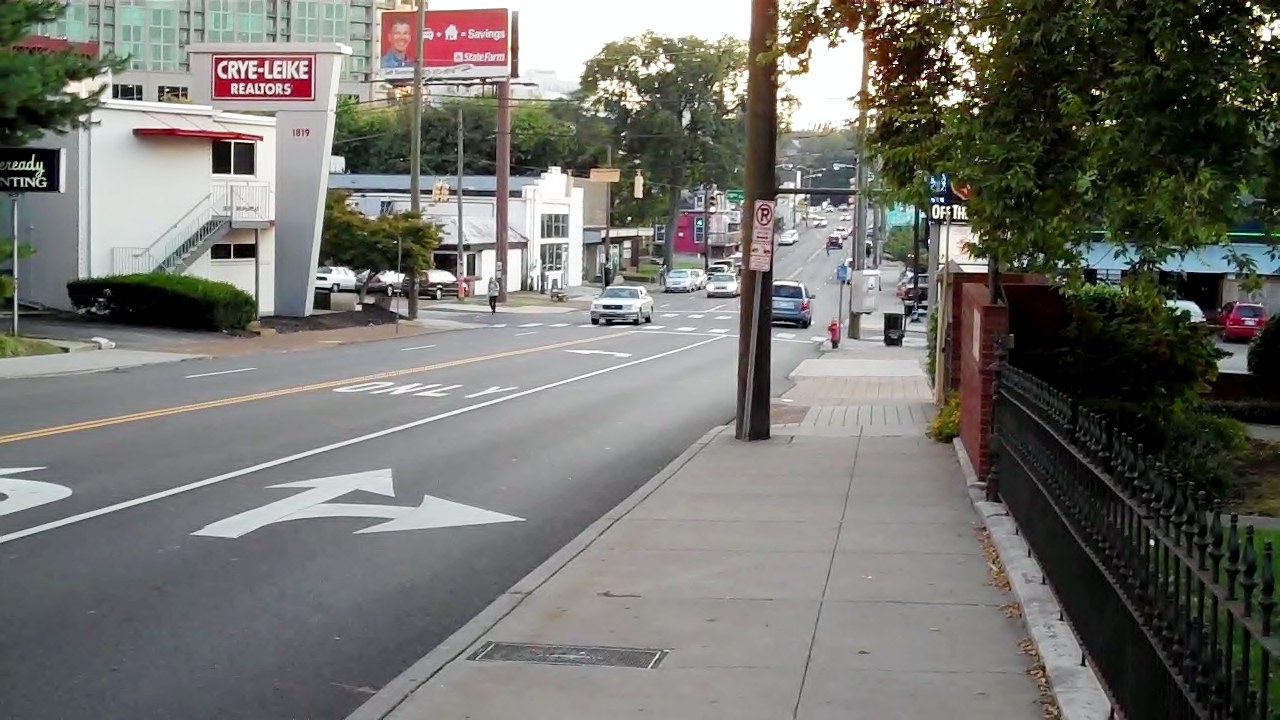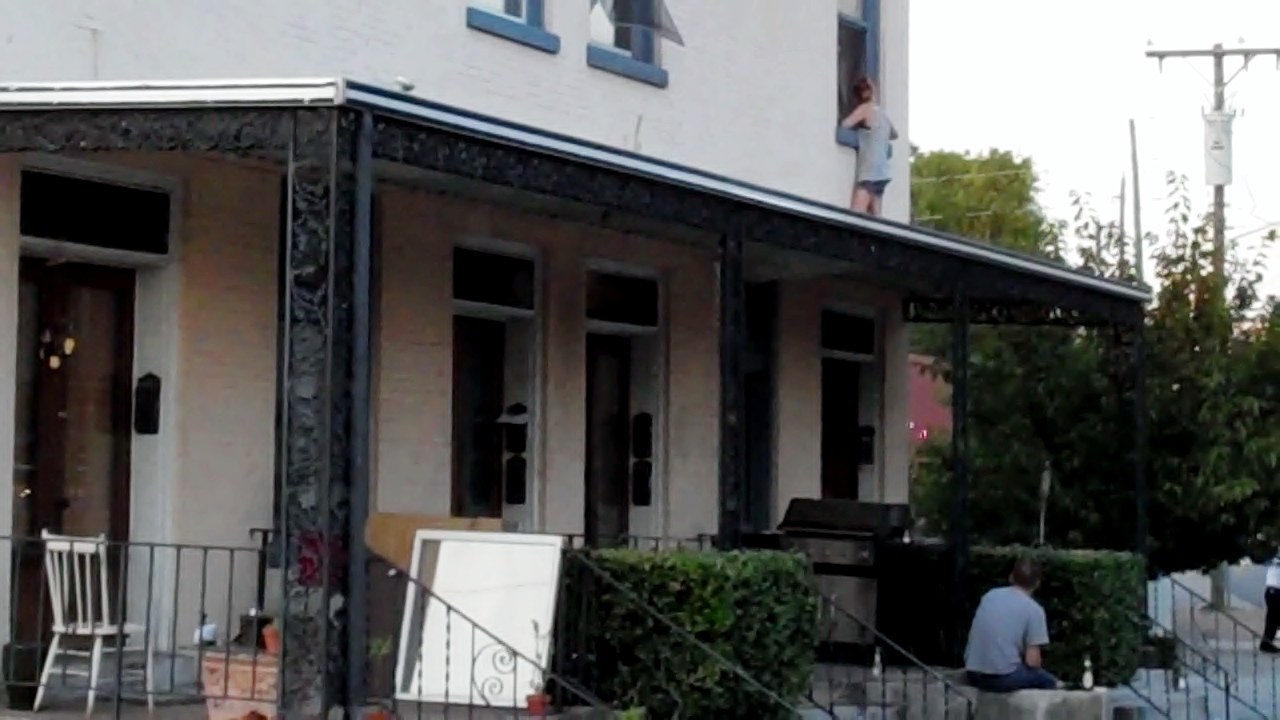 ---
Sept 23, 2010; 7:36a.m.
Well, it seems like the night went by all too quickly, despite having slept in till 7:30. The package says "Rain Forest Alliance Certified French Roast Coffee," and yet it tastes like every other hotel room coffee I've ever had. Makes a guy wonder if they don't just stuff Maxwell House into all of those various little packages with "special" names on 'em. Whoever came up with the idea of making coffee pods (like tea bags but, of course, with coffee instead of tea) experienced a stroke of brilliance. Anything that doesn't have to be cleaned up after is a good thing! Will see what the complimentary breakfast is like in a few. Meanwhile, check e-mail, grab a shower, and all that - and will begin the day.
More exciting commentary to follow!
---
Nice view from the balcony at my room on the 6th floor.
These are a couple of views of the dining area on the main floor. The complimentary breakfast and the Manager's Happy Hour takes place there. The serving area is to the far right. A nice waterfall feature adds a touch of elegance and a bit of serenity to the area.
They wasted not one minute shutting it all down at 9:00a.m. though! Couldn't even get a cup of coffee. Having said that, it is only fair to add that the staff has so far been very helpful and responsive, from the front desk, to house-keeping, to the valet guys who hang out front in the 90+ degree heat.
Went for a walk in the late morning. It's really quite amazing how many businesses are tucked away and how many are right out there but unnoticed when traveling/driving where you have to keep an eye on traffic and pedestrians.
Encountered a fella who says he's from Chicago, got evicted from his hotel there after having lost his job, has been homeless for the last 5 days and needs $7.00 for a room in a "flop-house" here in Nashville. Said he already had $3.50 and wondered if I could give him a dime or a quarter. While we chatted a Nashville PD officer came up, spoke to him and used him name, reminded him that he had been told several times to stop harrasing people and begging for money. It was something not unknown to me but indeed something I haven't encountered in a long time. Kinda makes a guy wonder though - if he's been in Nashville less than 5 days he was either making it all up of he got to be on a first-name basis with the police patrol in a big hurry!

In just a few short blocks I came across three spas, two tattoo and piercing parlors, a Chinese restaurant, an Arby's, an Off the Grill (good food!), a foreign motor repair shop, a Buick dealership, a Chevy dealership, and of course the Vanderbilt campus.
Saw a lot of interesting things; shown here.
Folks started showing up in mid-afternoon and, thankfully, they came in a few at a time so I was reasonably able to remember names for a while. Anyone who knows me is aware of my inate inability to remember names. Joe and Terry Menno were the first encounter; not surprisingly since Joe seems to be the organizer, shepherd and go-to guy for this event. He has been terrific with me anyway, keepiing me posted to all the planning, any changes or modifications of plans along the way.

It has been very interesting and rewarding to see faces and shake hands in the fleshwith these folks that it seems I've known since the 9th AVRS feature was born in 2007. Sadly, the guy who started it all, with me anyway, Ron Hyatt, isn't able to make it this year so I will still have not met the fella who gave rise to the Gallery. I was reading through some of my old guestbook entries a couple of weeks ago and did note that Joe Menno was really my first contatc with the 9th. He had submitted some comments to the website several years ago and, pleasant as that was, it was only a foreshadowing of things to come - the virtual explosion of materials - stories and photos - of the days of the squadron.

Soon after the initial greetings, stories began to flow from memories of days past. Some of them heart-warming and some just plain nuts - in a funny way. A couple of the fellas told of the days when they would have house girls taking care of their laundry, etc. Young Okinawan women who would arrive by "cattle trucks," they said. Large military trucks with high corrugated steel sides with holes cut so they'd have air to breathe; would be rounded up and trucked to the base and delivered to their respective barracks. They would take care of many of the house-keeping chores and the house boys who would "clean and clean and clean - and when it was all cleaned up they'd play cards the rest of the day," with the GIs.

Lou walked into a barracks bay one day and saw a bunch of guys sitting on their bunks, each with a pan of some kind of solution into which they were soaking their genitals. After the initial shock of seeing that he inquired and learned that they were all being treated for chancroid! Ah, the good ol' days, huh?

Bob and Lou bantering about the time he, Bob, was court-martialed for falling asleep on duty. As fortune would have it, Bob had played football for the squadron and the judge at the court-martial was a team-mate. Lou went to bat for Bob, testified as to what a great guy he was, and in the end Bob got off with having to give up only 2/3 of one month's pay. He concedes that his sentence may have been harsher if his offense had occurred one day earlier. As it was, he fell asleep on the first day following the close of Korean War hostilities.

Not all of the memories were of Okinawa though, of course, since those days were a few decades ago. Amari told of a hunting trip with Fred. They were out and shot a deer. As they were dragging the deer Fred had a heart attack. So there they were, deer on the ground, Fred on the ground, and Lou faced with a major decision. He commited to a plan - he dragged the deer the rest of the way leaving Fred on the ground with reassurance, "I'll be back for ya!" He got the deer on the truck and then went for help. When asked why he chose to take the deer instead of his hunting partner, Lou told them, "I figured nobody would want to steal Fred."

As hunting stories go, one story reminds the next guy of another and so it went. Joe was out hunting with some buddies and one of them got lost. He wandered around for hours and couldn't find the rest of the party. So, the guy climbed a tree and in the far distance spotted a farm house. He hiked to the farm house, explained his plight and the farmer agreed to drive him back into town where the lost hunter figured his friends would be waiting for him. Meanwhile, his buddies found their way back out to road and had been waiting for hours for their lost companion. After a while the farmer's truck is approaching the hunting party and comes to a stop. Out pops the lost soul, much to the amazement of the rest of the party. Well, maybe you had to be there...
While folks visited with their old friends, more showed up to register.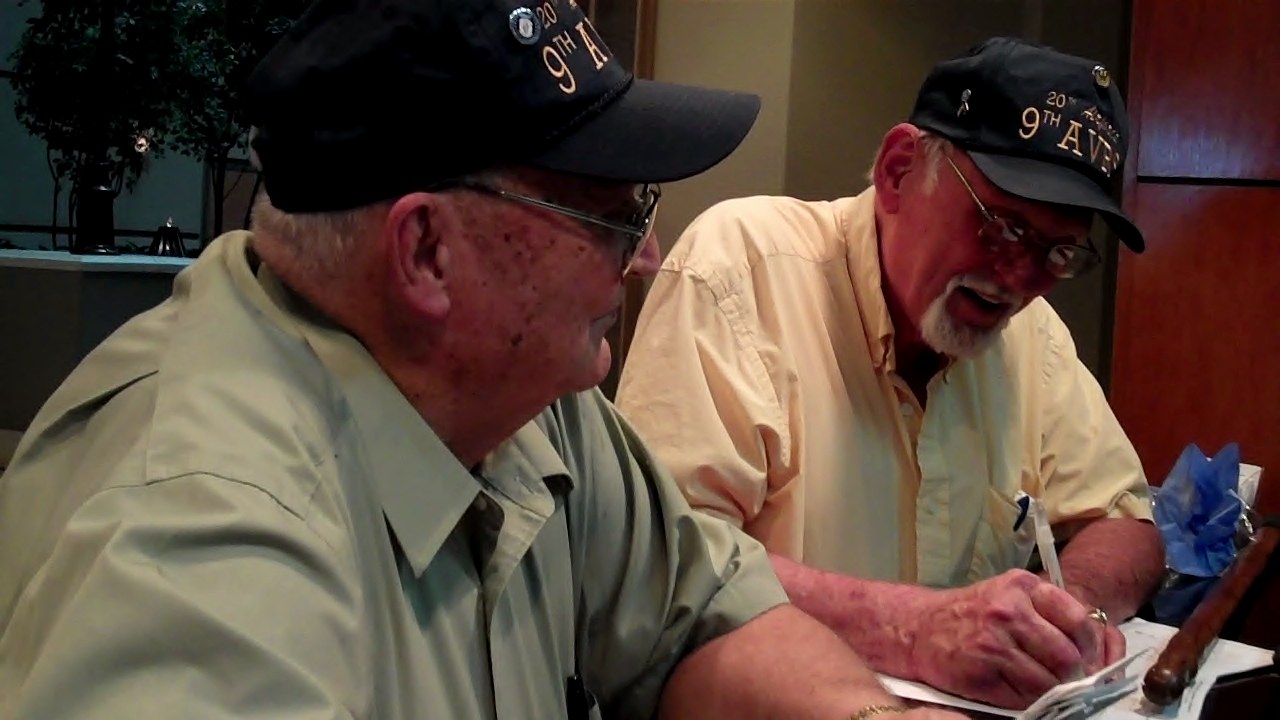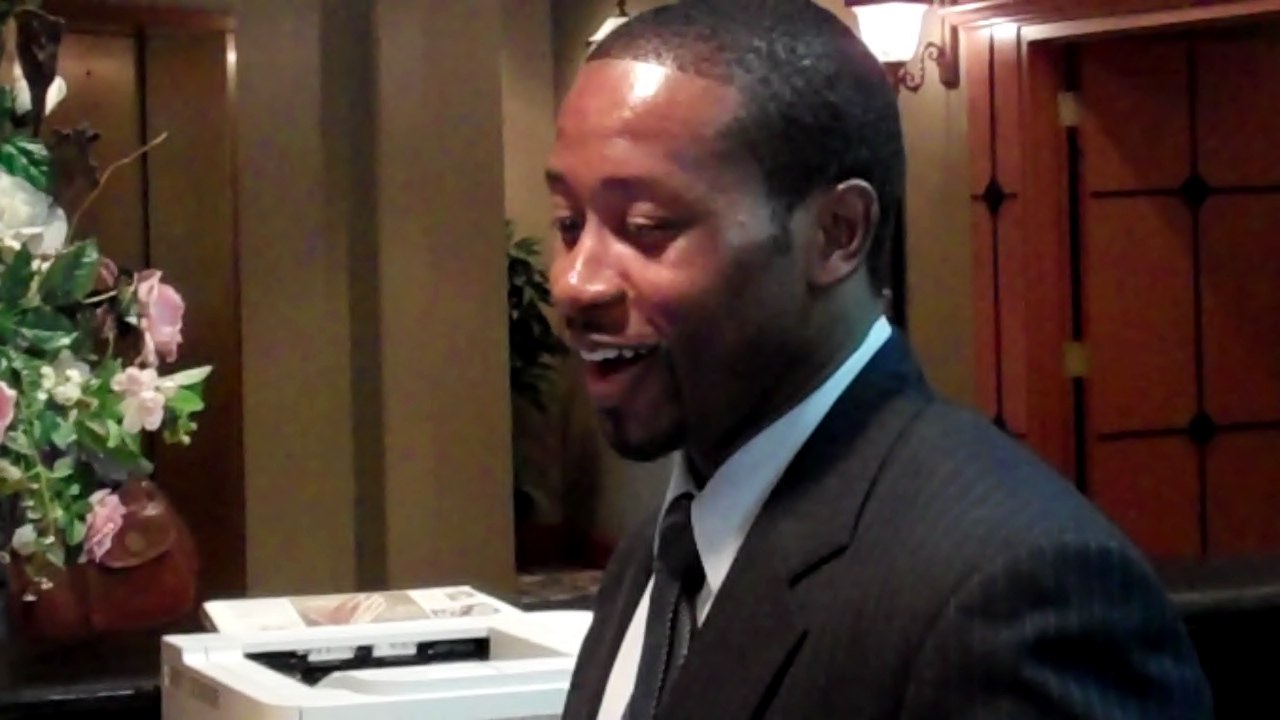 | | |
| --- | --- |
| text | |
| | |
| --- | --- |
| | text |
| | |
| --- | --- |
| text | |
| | |
| --- | --- |
| | text |
JUST IGNORE ALL THE BLANK STUFF beyond this. I just set up some blanks to fill in later. I don't like to have to write the same code over and over and over.... so, just think of it as a promise of more to follow!
| | |
| --- | --- |
| text | |
| | |
| --- | --- |
| | text |
| | |
| --- | --- |
| text | |
| | |
| --- | --- |
| | text |
[Back] to ClickOkinawa.com
---
2010 ClickOkinawa.com