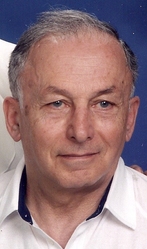 Don Ziter

Date of Birth:
Wednesday, August 14th, 1929

Date of Death:
Friday, December 2nd, 2011

Age 82, passed peacefully with his family by his side, on Friday, December 2, 2011. Don was a Korean War veteran with the 9th AVRS, the owner of Ziterís Auto Service and D.J. Ziter Company on West Liberty Avenue, an engineer from Point Park University, and a former auditor for the State of Pennsylvania. He is survived by his wife of 56 years, Eleanor, his daughter and son-in-law Diana and Edward Kollin, his son and daughter-in-law Don and Lynne Ziter, and his two grandchildren, Michael and Gabrielle Ziter. Arrangements by BEINHAUERS, 412-531-4000. At the request of the family, all services & interment are private. In lieu of flowers, please send donations to ViaQuest Hospice, 610 Park Avenue, Monongahela, PA 15063.
---
My father was VERY proud to be a part of the 9th AVRS and to call each of you his buddies. He spoke very fondly of the reunion he attended and I know it touched him deeply. He very much wanted to attend more of the reunions than he was able to.

In 1992, due to the wonders of the emerging internet, my father was fortunate enough to locate one of his buddies from the 9th. Forgive me for not remembering his name. He lived just outside of Seattle, Washington. My wife and I lived in FL at the time and didn't get a chance to see my folks (who lived in Pittsburgh) as freqeuntly as we wanted. Knowing that we were planning to be in Seattle over Labor Day weekend, we bought my folks plane tickets to join us. Long story short, my dad contacted his buddy and my folks spent the entire weekend with his buddy and his wife. They had a great time and my dad beamed from ear to ear for weeks after! I recall him mentioning several years later that his buddy died from cancer, with a pause for reverence while recalling the good time they had that long weekend.

My hat is off to you for the wonderful work you do with this web site, providing a meeting place for these buddies to stay in touch. My father taught me how to live with dignity and, in the end, how to die with dignity. He always surrounded himself with good, honest, hard working folks that had outstanding character. Even though we've never met face to face, that's why I'm proud to consider you as friends!

God Bless the 9th AVRS!

Don Ziter, Jr.

"TOP AIRMAN"
SELECTED AIRMAN OF THE MONTH by a board of officers and non-commissioned officers
of his squadron based on Okinawa is Airman First Class Donald J. Ziter, son of Mr. and Mrs. M. T.
Ziter of Springfield, Massachusetts. Airman Ziter is a veteran of 33 months in the Air Force
and has spent 20 months on Okinawa. He is a heavy equipment mechanic with the 9th Air Vehicle
Repair Squadron. (Photo by Springfield Union)
---

P.O. Box 6245, Great Falls, MT 59406