published March 5, 2000
revised: February 23, 2020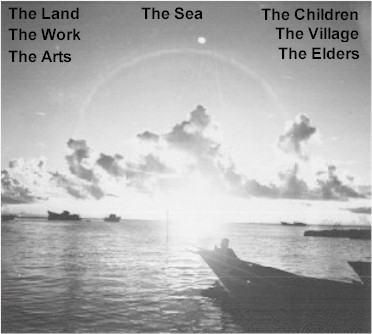 I am not the photographer for this 1940s collection.
All are scans of original photographs taken on Okinawa in the 1940s.
If you recognize any location or can describe the activity in any picture, please e-mail me and let me know. I'll post the description and give you proper credit!
---
Received Sep 18, 2008 from Donn Cuson
"I saw your photos on 1940's Okinawa on your website and noticed that you were interested in identifying some of the locations. I can probably identify 5 or 6 of the photo locations. I have 15 of the Mosher-Reid Photo Service booklets that most of your photos came from so I have a lot of the same ones as on your website. I can tell you that based on research of the 15 booklets that I have that they were all sold after 1950, although the photos could have been taken before that."
My reply to Donn enthusiastically accepted his offer.

Received Sep 20, 2008 from Donn Cuson:
"If your pictures did not come out of Mosher-Reid Photo Service booklets please let me know as I am researching the early photographers of Okinawa. It is my belief that the photos in the Mosher-Reid Photo Service booklets were done by Bert Mosher who owned American Photo Service on Okinawa. I dont know the date that the business started but it was probably after 1952 and he sold out and went back to the states in 1957. On your website 1940's section you showed a GI and said you thought he might have been the photographer, I can tell you that the photo is not Bert Mosher, but it might be possible it could have been Reid, I have no information on him at all."
I have included captions on some of the photos that Donn identified for me. Mick McClary
---