Oi-shi Fried Rice

Well, I've been disappointed so many times that I don't even order it anymore. It's never going to be as good as what I can whip up in my own kitchen. Maybe I should never say "never;" I just might end up eating those words some day - eating those words right along with better fried rice! Anyway, since I finally flipped over my Yakisoba recipe onto the website I figure I might as well go whole-hog and throw out this one for your pleasure and/or criticism.

Fried rice is another one of those things into which you can put just about anything you want. I'm going to show you what I do and, of course, I hope you'll try it and even make your own modifications. Let me know how it goes. Heck! I'll even post your comments and recipe/suggestions.

To make a nice fried rice dish that you can scoop up with chop-sticks and have it not fall all over the table between your bowl and your mouth; and that actually has some taste to it, I offer you this:

WHAT YOU'LL NEED

Rice. Steamed and cooled. I oftentimes cook the rice then seal it in an air-tight container and leave it in the fridge overnight. It just fries better when it's not freshly steamed/cooked.
Bacon,chopped up in small pieces. Easiest to do if it's still frozen - you can chop off small pieces for frying into tasty bits.
Meat, if you like. Tofu can work well, cubed 1/4". I like to use pork and chicken. Something I oftentimes do is order extra chicken bulgogi (Korean dish - you gotta try it!) when we go to The Maple Garden. I then cut that into very small (1/4" to 1/2") pieces.
Onion, diced
Bell pepper,diced
Cabbage, diced
Hot pepper, ground
Hot sauce - just a splash
Vegetable oil
Sesame oil
Low sodium Soy Sauce
Sesame seeds
Scrambled eggs, chopped

1. Prepare the rice and set it aside to cool (see above).

2. Slowly fry the chopped up bacon until it's almost crispy.

3. When the bacon is "just right," add the onions and cabbage. Sprinkle a little ground red pepper on it then stir it all up real good. Turn the heat to Low and cover the pan to let it all "steam." When it's just about done, add the bell pepper. If you put that in too soon it gets too soggy.

Can you spot the dead give-away that I brought home some chicken bulgogi tonight to incorporate into my fried rice? No, it's not the pieces of chicken that you see. You there, with the sharp eye! You're right! You spotted that short little strand of
noodle
in the pan, huh? Good catch, Eagle-eye!
4. Scramble as many eggs as you care to. I typically do 3-4 eggs for one big pan of rice. DON'T put it into the pan yet! If the eggs go in too soon they lose their bright yellow color.
While the meat and vegetables are simmering - not really simmering, I guess; I don't want to burn the stuff! Maybe sautee is a better word for it. Anyway, while that stuff is slowly doing what it does in that covered pan let's turn to the rice.
5. Take the rice out of the fridge. Put some vegetable oil in a wok or a deep-sided frying pan. Once again, your preference counts here but I typically use maybe 4-5 tablespoonsful of oil. Heat the oil then drop in the rice. Begin scooting that rice around right away.
6. Drizzle in about 2-3 spirals of sesame oil over the rice then continue mixing it well while it fries.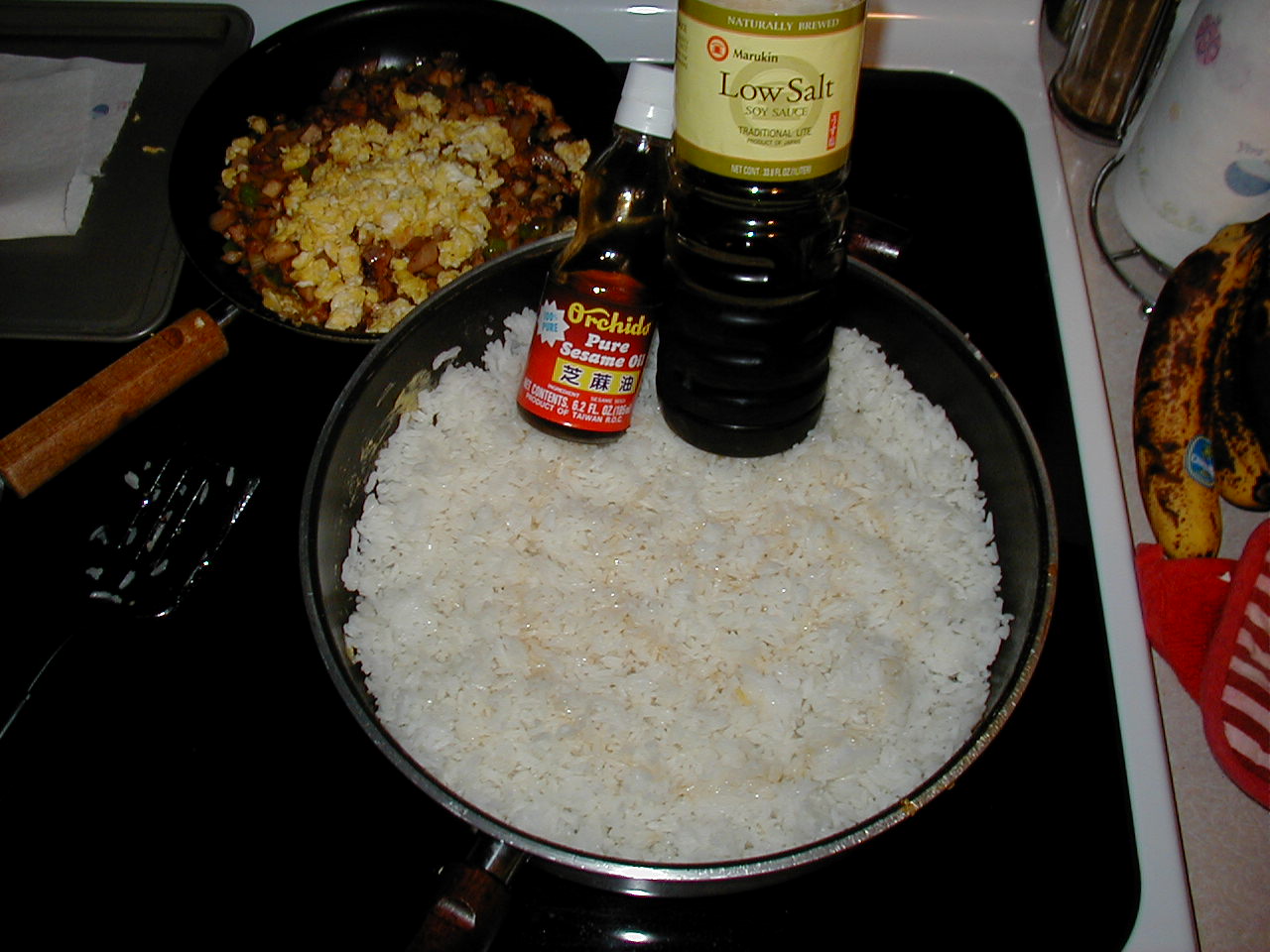 7. Lower the heat and add the soy sauce to the rice. At this point you have to really spend some time stirring, churning and scraping the rice so that it all turns a light brown. More or less soy sauce adjusted to your taste.

Next... - Putting it All Together

Once the rice is well on its way to being fried add the sauteed meat and veggies. Be sure that you have already put in as much soy sauce as you care to use BEFORE you add the meat and vegetables. If you add more soy sauce after you've combined it all then you're going to discolor the vegetables and ruin the beauty of the finished product!

Keep moving the rice/meat combination around in the wok/ pan so that it doesn't burn. I like to leave it long enough to just barely scorch the rice - enough so that it is really fried. Add the eggs last. If you put the eggs in too soon they too will discolor and you'll lose the bright yellow that adds a lot of spark to the appearance of your meal.

wrong way to do it, I guess, is to try something, taste it and promise not to let anyone ever lay a fork or a chop-stick on it! That means it was really, really bad! It's fun to experiment with different things. Just a few nights ago I brought home some orange chicken from The New Peking Garden restaurant here in town. I chopped that all up and used it instead of a pan of sauteed stuff and it was delicious! I have done the same with left over mu shu. I think the real trick is to ALWAYS use some bacon first, fry the rice as I've described and have some scrambled eggs to fold into the final product. The pan of sauteed whatever is really the wild card - use just about anything you think would taste good. The worst that can happen is that you say, "Aaaagghhhh!!" and throw away a few cents worth of rice and soy sauce! Start all over again and keep trying new ideas.

Of course, if you're having friends over and you're going to show off your culinary prowess stick with something you've already done and are proud to show off. That wouldn't be the best time to try new stuff that might flop.

So then, there's my fried rice recipe. If it doesn't taste "just right" the first time, then just experiment a little the next time.

NOTE: The photos in this feature are taken in my kitchen as I was preparing the rice, and in the tatami room that I built back in '03. The tray, dishes, chop-sticks, etc. are the real deal, all brought back from Okinawa.
To see full-size photos just click on them.

So, if you tried this recipe, please let me know what you think of it.
Whether I get a good or a bad review I'll post your comments here to share with everyone. You guys be my judge!
[Vote Here] [Readers' Votes/Comments]
[Check out my Yakisoba recipe!]
LEGAL STUFF: If you have dietary restrictions and/or allergies, always read the ingredient list carefully for all food products prior to consumption. Allergens and their derivatives can have various names and may be present in some food brands but not others. If the ingredient list is not available on the food product, check with the food manufacturer, or do not consume the product. If you have a food allergy, speak to your physician and/or a registered dietitian for a comprehensive list of foods and their derivatives to avoid prior to using any recipe from ClickOkinawa.com.

---
©2007 S.A. Mick McClary - ClickOkinawa.com (modified 1-14-16)