Scroll down for Kogane Forest Park video

NOTE to SELF: Never forget to bring the the gimbal!
---


---
THE KOGANE FOREST PARK
Address: 718-1 Miyahira Haebaru-cho Shimajiri-gun Okinawa Prefecture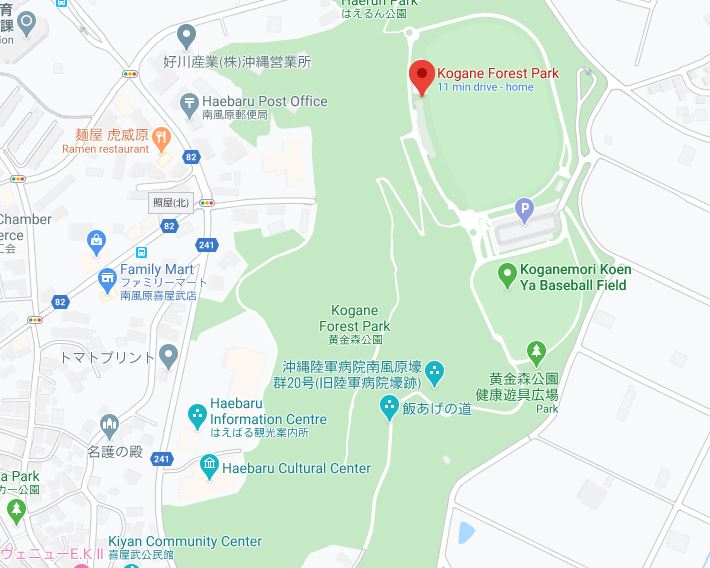 Favored as a terrific spot for star-gazing the Kogane Forest Park is a tranquil escape from the city. Within the park are track-and-field and baseball fields among other sporting facilities. If you go don't pass up the observation tower where you can overlook Haebaru.
While walking around the park along a well-groomed flat and level trail I passed a sign that amused me but at the time had no idea that it was referring to another terrific site that I saw later during my trip - the man-made "cave" (actually a tunnel) that was used as an IJA hospital shelter during the war. Bunker #20.
The Imperial Japanese Army Field Hospital was not originally planned to be in Haebaru, a town due east from the Japanese Navy Underground Headquarters and south along the path of retreat from the Army Underground Headquarters at Shuri to the Kyan Peninsula. After the original Okinawa Army Field Hospital was destroyed in the October 10th (1944) air raid on Naha it was moved from that city to the National Elementary School in Haebaru. Staffed by 350 doctors, nurses (including teen-age high school girls who had been pressed into service as nurse aides) and orderlies, it too was attacked causing them to abandon that location and move into a series of some 30 tunnels that had previously been dug into the hillside of Kogane Forest - Kuganimui. Throughout the Battle of Okinawa it served as the premier field hospital and figures prominently in the saga of the Himeyuri Student Nurse Corps.