<!xxxxxxxxxxxxxxxxxxxxxx COLUMN ONE xxxxxxxxxxxxxxxxxxxxx>

Click to see full size image. Doing so will launch a new browser window.
Known to many as simply "Bireley's" this company has been providing non-alcoholic beverages to Okinawa since 1951.
It began in June, 1950 as Bireley's California Orange Company, Inc. in the Machinato commercial area, as it was known then, on Highway One (today's National Route 58) on Okinawa's west coast. Though started (on paper, anyway) in 1950 the McGuire's didn't get the go-ahead from USCAR (United States Civil Administration of the Ryukyu Islands) to sell their product on Okinawa until 1951.
Two brothers, Darold E. and N. G. McGuire, along with Charlie Shon and Sang Woo Chee, created the start-up bottling company providing 11 flavors of soft drinks in 10-ounce bottles; 5 flavors in quart and gallon bottles for home and restaurant use; 7 flavors for vending machines; 10 flavors in Pre-Mix tanks and Jet Spray bar valve dispensing equipment. All concentrates used in the production of their various products were imported from the USA. By 1965 Bierley's had 150 employees and a fleet of 50 trucks that were used to distribute their products everywhere on the main island, Miyako and Yaeyama.
Side note: Darold McGuire was a captain in the U.S. Army (food service) in 1947 and was offer an opportunity to establish "American-style" restaurants on base for the troops, serving hamburgers, hot dogs and soft drinks.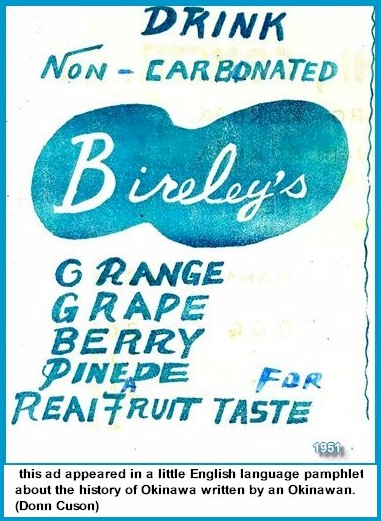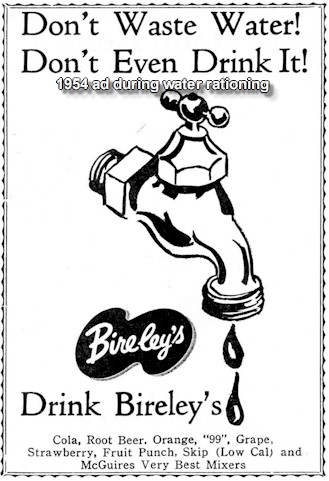 In 1956 Darold retired and another McGuire, James G., Sr. arrived on Okinawa followed by his son, James G., Jr., in 1964. Also in 1956, N. G. McGuire returned to the United States but returned to Asia in 1963 to manage a Bireley's plant in Hong Kong. Darold McGuire returned to the States in 1958.
1956 advertisement in LIFE magazine
In 1960, Bireley's reorganized as the American Bottling Company, Inc. By that time, Bireley's had produced and distributed over 135 million bottles of soft drinks on Okinawa!
About 60 employees from the American Bottling Company jointly established Bireley's Okinawa in 1972 when the U.S. government returned Okinawa to Japan. At that time they sold Bireley's to the Okinawan employees with Mr. Shoutoku Asato becoming the president. Asato-san started out with the company from its outset, first as the accountant, then as general manager. Then, as stated, he bacame the president when the company was bought out by the employees in '72. They moved the plant to Yanabaru and continued operation until 2014 when they sold it to Asahi. While most beverage manufacturers on Okinawa have been reorganized as subsidiary companies of major enterprises in mainland Japan, Bireley's Okinawa was, until 2014, one of the few remaining Okinawa-owned companies.
The company announced in April, 2014, that it would transfer its operations to Asahi Soft Drinks in Tokyo by the end of that year. The McGuires had a reunion in 2014 with Asato and the remaining Bireley's employees.
---
Besides their soft drinks I remember Bireley's very well for their typhoon plotting charts!
<!xxxxxxxxxxxxxxxxxxxxxx COLUMN TWO xxxxxxxxxxxxxxxxxxxxx>

Mark Vander Vort recalls: "We used to buy the 24-count wooden cases for $2 right next to the fuel pumps on base at Kadena in 1966 near the outdoor skate rink next to the theatre."

Sources:
-Ryukyu Shimpo(online) June 16, 2014
-Naha NCO Wives Club COPACAPERS Vol. XIII June, 1965
-LIFE magazine Aug 13, 1956
-Okinawa: a Tiger by the Tail, M. D. Morris ©1968
-TIMELINE: Okinawa, McClary, S. A. (unpublished)
-personal account from Michelle McGuire Kurnik. Darold E. McGuire was her great uncle.
-rememberingokinawa.com
-various Facebook entries at Yeah, I Lived in Okinawa
---
New Bireley's drink hits store shelves (2016)
Bireley's shiqwasa-flavor soft drink now on sale (2017)
---

©2019 Contact: ClickOkinawa.com