<!xxxxxxxxxxxxxxxxxxxxxx COLUMN ONE xxxxxxxxxxxxxxxxxxxxx> When last I visited Nakagusuku Castle I was thoroughly enthralled with the skeletal remains on the horizon to the west, of a concrete behemouth that once promised to be an elegant hotel, water park, petting zoo and night club. Many stories have surfaced - and resurfaced - over recent decades about this colossal waste of money, energy and some workers' peace of mind.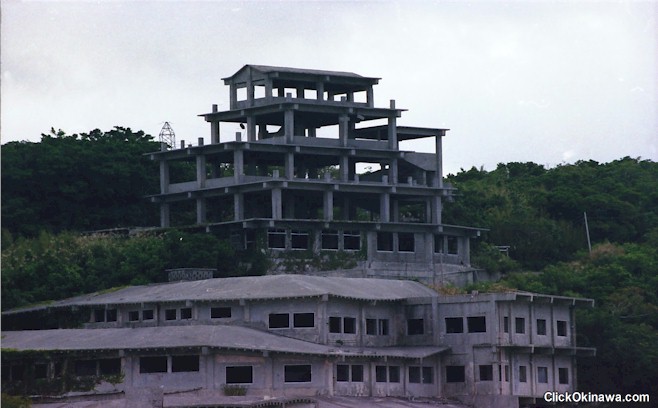 Looming over the village of Kitanakagusuku lies the ruins of Okinawa's legendary haunt, what was to have been the Nakagusuku Shiroato Kogen (lit. "behind-castle plateau") Hotel Leisure Land, aka the Royal Hotel. Soon to be demolished, the multiple buildings and tiers stand deserted awaiting the wrecking ball. Construction commenced in the late 1970s by a wealthy developer from Naha. He chose the prime location on top of an emerald jungle ridge possessing commanding views of both the Pacific Ocean (or, more accurately, the Philippine Sea) and the East China Sea. His dream was to capitalize on the influx of tourism resulting from the 1975 Ocean Exposition (Expo 75).
Villagers and local priests had admonished him not to build at that location because it is sacred ground filled with o-haka (tombs) and that the resident spirits would be angered but he ignored their pleas and proceeded with disregard and disbelief of their superstitions.
As construction work commenced and progressed more and more weird things began to take place. Mysterious accidents and unexplained deaths cast shadows over the entire construction site. For example, machinery turned itself on without being plugged in to electrical sources. By mid-1975 the workers became too terrified to contiinue their labor and in time they refused to work any longer at the site.
The United States Military had declared the site a "no-go" zone for all servicemen, following an incident in which a group of GIs decided to explore the ruins and another "accident" occurred – a solider was critically injured when part of the floor he was walking on collapsed and he plummeted to a story below.
The original owner is said to have volunteered to spend the night (some sources say that he spent three nights there) in the unfinished hotel to prove that it wasn't haunted, but by morning, he had gone insane and was subsequently committed to a mental asylum, from which he disappeared shortly afterwards. Now, his ghost is said to roam the rubble-strewn corridors.
<!xxxxxxxxxxxxxxxxxxxxxx COLUMN TWO xxxxxxxxxxxxxxxxxxxxx>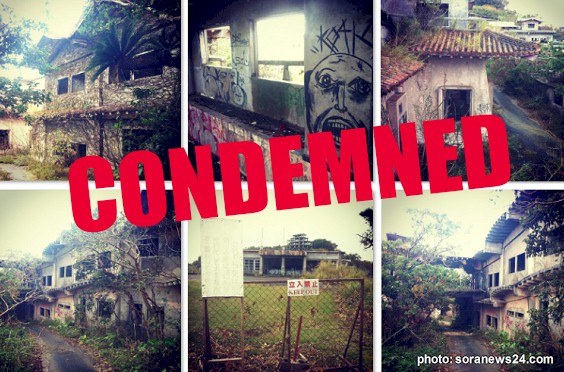 Witnesses had reported seeing orbs of light dancing throughout the hotel. Others had passed by the hotel, observing sounds and smells as if it were open for business, such as cooks preparing feasts in the desolate kitchen and guests diving into the swimming pool despite the fact that any water that may have once filled the pool was long evaported.
A more rational (but much less exciting) explanation is that the project was simply impractical. After all, this was during Japan's bubble economy years, when money was splashed about wildly on various projects which were essentially badly planned flights of fancy. Japan is littered with abandoned sites as a result of poor economic decisions made during the '70s and '80s, and the Nakagusuku Kogen Hotel might have been another victim of reckless spending and poor budgeting.
The only mortal to have actually inhabited the hotel was a monk who had taken up residency there acting as its guardian. He had erected a shrine in the uppermost tower in hope of facilitating eternal peace for the spirits who had been so disturbed.
Whatever the cause, whether colorful folklore, disgruntled ghosts or simple poor economic decision-making, no one can deny the mysterious aura surrounding the hotel, a reminder about respect for the dead and a thrilling tale inimitable to Okinawa and her culture.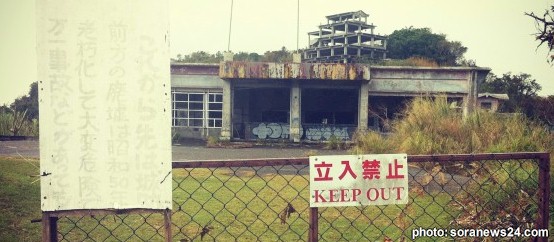 Demolition began in May of 2019 and should be completed by March, 2020.
Sources:
This Week on Okinawa, Oct 31-Nov 6, 2005
soranews24.com
YouTube (AbandonedKansaiVideo)