<!xxxxxxxxxxxxxxxxxxxxxx COLUMN ONE xxxxxxxxxxxxxxxxxxxxx> From late in April until early in May many streets are bare but airports, monorail stations, and many public venues are packed to the rafters with people enjoying a week-long vacation loaded with no fewer than four holidays, activities and celebrations. Golden week is the perfect time to travel to Okinawa because it's warm enough to enjoy all the summer activities like going to the beach and snorkelling, but it's before the extreme heat and oppressive humidity take over the island! Golden Week - one of the top three holiday seasons. New Year and Obon are the other two.
On Okinawa, the most popular event during Golden Week is Naha Haarii. One of the largest annual festivals held on Okinawa, Naha Haarii includes dragon boat races, live music, game booths, a variety of food and drink options, and much more. The daily dragon boat races are the most popular attraction, but there will also be a large fireworks show each night.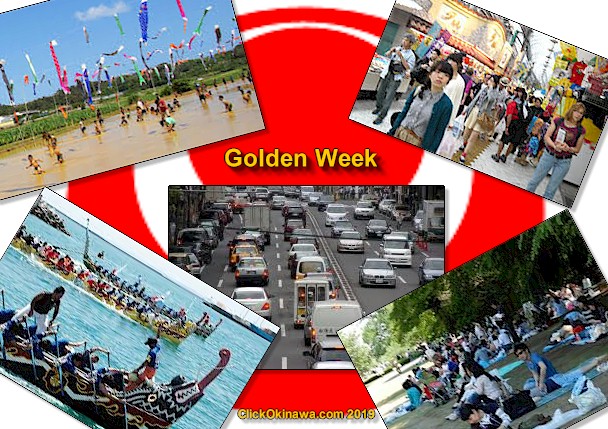 This year, 2019, I was on Okinawa for Golden Week but this year it was dubbed "Platinum Week" because of one extra celebration that was held, with extra events and a longer duration, to commemorate the inauguration of the new emperor, Naruhito. Truth be known, Okinawans are still, all these years later, still not too keen on paying special hommage to the Japanese emperor so I didn't see much at all along the lines of celebrating the new figurehead in Tokyo.
The week gets its name from broadcasting jargon, a "golden time," which is the equivalent of American television "primetime". Since this period is usually blessed with good weather and moderate temperature, many large festivals take place all around the nation, helping to make Golden Week an extremely popular time for travel and sightseeing.
<!xxxxxxxxxxxxxxxxxxxxxx COLUMN TWO xxxxxxxxxxxxxxxxxxxxx> Showa Day is the birthday of former Emperor Showa who died in 1989.

Constitution Memorial Day (Kenpo-kinenbi) honors Japan's constitution which came into force in 1947.

Greenery Day (Midori-no-hi) is dedicated to the environment and nature, because the emperor loved plants and nature. Before being declared Greenery Day, it used to be a national holiday due to a law which declares a day that falls between two national holidays a national holiday.

Children's Day (Kodomo-no-hi) celebrates Boy's Festival (Tango no Sekku). Parents wish health and future success of their sons by hanging up Koinobori (carp streamers).
---
During the Golden Week season many fields and mountains in northern Okinawa are covered by beautiful flowers and green leaves, and the wind blows soft and sweet.

Naturally, children become particularly excited this time of year as schools in Japan close for up to eleven days during the Golden Week holiday. As Golden Week is the longest holiday period of the year, a vast number of leisure-based industries offer special deals and events, many of them perfect for children of all ages.
---
Silver Week
Every five to six years, a favorable accumulation of national holidays (Respect for the Aged Day, Autumn Equinox and an eventual in-between holiday) and a weekend creates a longer holiday period similar to Golden Week around late September. The holiday has popularly become known as "Silver Week".

Sources:
okinawa.stripes.com
This Week on Okinawa, May 2-9, 1990
tokyocreative.com
japan-guide.com
okinawanderer.com