Itokazu Castle (jo, gusuku) ruins (seki) is located not far from the house I rented in Nanjo, southern Okinawa. Built in the mid-14th century of Ryukyu limestone it was the Nanzan home of the Lord anji of Tamagusuku magiri. When Sho Hashi consolidated the three kingdoms in 1429 Nanzan ceased to exist and became a part of the united Ryukyu Kingdom.
With its magnificent walls, it is the largest castle ruins in the southern half of the island.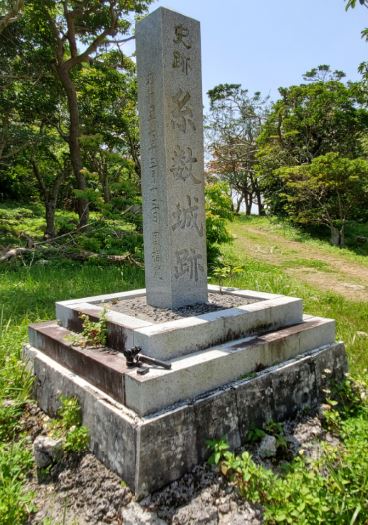 Itokazu gusuku is the third-largest fortress on Okinawa Island, after Shuri castle and Nakijin castle, covering roughly 66,000 square meters. Located on a limestone hill in the eastern parts of the village of Tamagusuku, about 180 meters above sea level. It was constructed by Itokazu anji, the third son of the lord of Tamagusuku who built Tamagusuku gusuku (second video down). In fact, the two fortresses are located quite close together, on the same tableland, and it is believed they worked in concert to govern the surrounding area. The year of the construction of the fortress, however, is unknown.
Pieces of ceramics, celadons, and other trade goods excavated at the site indicate an involvement with overseas trade, and hint at an early 14th century (Sanzan period) construction date for the fortress.
The site is accessible by road and the turn is well-marked as I traveled along on Gusuku Road in Tamagusuku District. I drove into a wide meadow within the stone "gate", got out and walked the site including terrific scenes from atop the walls!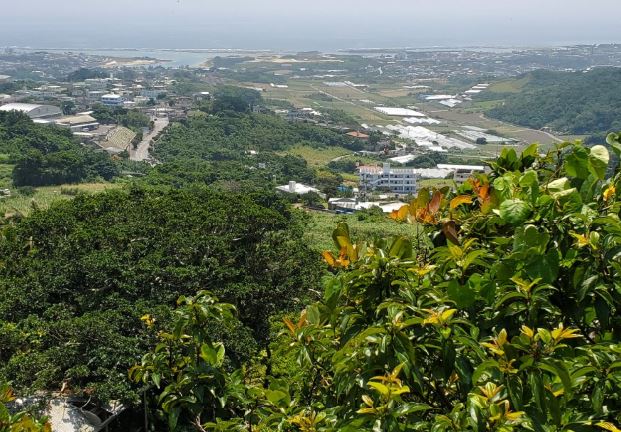 The gusuku walls, as high as six feet in some places, are often compared to a dancing dragon. A combination of nozura-zumi (piling up of uncut rock) and kiri-ishi-zumi (piling of cut rock) techniques were used in the construction of the walls. The grounds are organized into a number of curved enclosures, and are bounded to the west and south by a low wall of uncut stone, and to the north and east, by a high wall of cut stone. The main gate of the castle faces the east; the tombs of the lords of Itokazu, and a shrine, are located inside. A watchtower on the north side of the grounds, called Nishi-no-azana (北ぬ字), offers views of Naha, Shuri, the Kerama Islands, and Katsuren, while the south watchtower, called Fee-no-azana (南ぬ字), faces towards Tamagusuku, Gushichan, and the Pacific.
In 1972, it was designated as a national historical site. Neishigusku can be found in the northeastern part of the Itokazu ruins. Places of worship can be found with the castle, stone masonry can be see in the area.