<!xxxxxxxxxxxxxxxxxxxxxx COLUMN ONE xxxxxxxxxxxxxxxxxxxxx>
The Ryukyu Pine tree is found throughout the Ryukyu Island (Okinawa Prefecture) chain from Tokara Island in Kagoshima Prefecture, north of Okinawa, and as far south as the Yaeyama Islands. The tree is abundant and endemic to Okinawa. It is the official symbol of the Okinawa Prefecture.

The beautifully shaped pine has gray-to-black bark, needle-like leaves, and grows up to 20 meters (66 feet) in height. Its trunk can measure up to 1 meter (39 inches) in circumference. It's branches grow horizontally and as they extend they grown downward, making it appear to be a cluster of umbrellas thus providing natural shade and protection from the hot Okinawa sun. Twigs are typically yellowish-brown.
| | |
| --- | --- |
| | Leaves (needles) are borne in fascicles of 2, each measuring 4.8 to 7.2 inches (12 - 16 cm) long, slender, stiff and straight and are retained for 2 to 3 years on the tree. Individual needles are dark green in color with lines of stomata on both faces. Foliar sheaths measure 0.4 to 0.6 inch (10 - 15 mm) long, weathering to 0.2 to 0.4 inch (5 - 10 mm), persisting for the life of the foliar bundle. Pollen cones are borne densely crowded at the shoot tips, measure 0.48 to 0.8 inch (12 - 20 mm) long and are reddish brown in color. Seed cones measure 1.2 to 1.6 inches (3 - 4 cm) long. They are ovoid shaped, comprised of 60 to 80 seed scales, colored green when young, maturing to dull, yellowish brown. They persist for some time on the tree before falling along with their 0.4 inch (1 cm) long peduncle. Seed scales are paddle-shaped with a irregularly fan-shaped, flat exposed face, crossed by a low ridge, topped by a small, slightly protruding umbo. Seeds measure 0.12 to 0.16 inch (3 - 4 mm) long with an easily detachable wing, 0.36 to 0.48 inch (9 - 12 mm) long. |
The wood from this pine is used as building material and pulp. This particular tree is also used in landscaping. Miniature Ryukyu Pine trees are also used as potted dwarf trees.
Most of the Ryukyu Pine trees on Okinawa are relatively young - 50 to 70 years old but up north there are many that have been growing for the past three centuries.
<!xxxxxxxxxxxxxxxxxxxxxx COLUMN TWO xxxxxxxxxxxxxxxxxxxxx> Pinus luchuensis, commonly called Luchu pine or Okinawa pine, is a species of conifer in the family Pinaceae endemic to, and locally abundant in the Ryukyu Islands of Japan. It was once threatened by habitat loss in the wild, where it can be found growing in small stands near windy ocean shores. Having been harvested widely since the Second World War, the remaining stands are no longer commercially viable, except when cultivated for ornamental use.

Rob Oechsle says, "Prior to WW2, half of the roads on Okinawa were lined with these trees. Most were hundreds of years old, each taking their shape while surviving through centuries of typhoons.

"However, during the war, first the occupying Japanese Military, and then the invading US Military both took axes and chainsaws to most of them in order to get their tanks down the roads.

"Today, the new enemy of these trees is an invading Beetle from Taiwan, which has now killed off even more of the trees than survived WW2."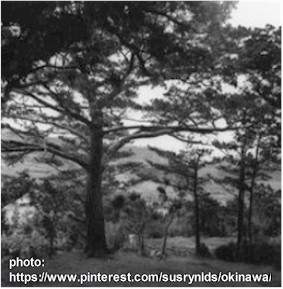 Sources:
en.wikipedia.org
This Week on Okinawa, Jan 31-Feb 7, 1990
flickr - Okinawa Soba (Rob)
pinterest.com/susrynlds/okinawa/
conifersociety.org