<!xxxxxxxxxxxxxxxxxxxxxx COLUMN ONE xxxxxxxxxxxxxxxxxxxxx> Pack up the kids, flip-flops and towels and head to Kin Town for the next TANBO MATSURI ! Tanbo means rice paddy and matsuri means FUN! Well, actually, matsuri means festival but, yeah, it's a heck of a hoot.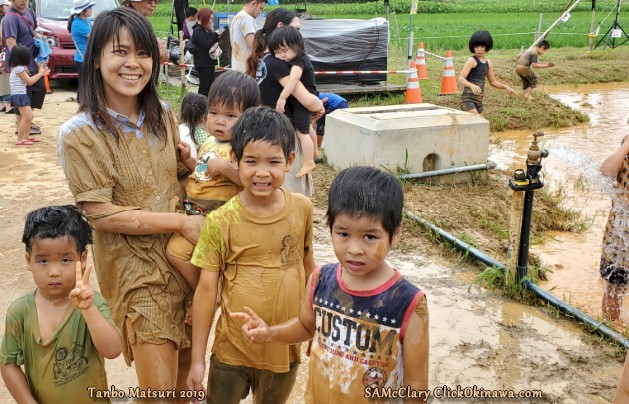 I went in the spring of 2019 and loved every minute as did the kids, moms and dads, and the friendly accomodating staff at the Kin Nature Mirai-kan (Future Hall).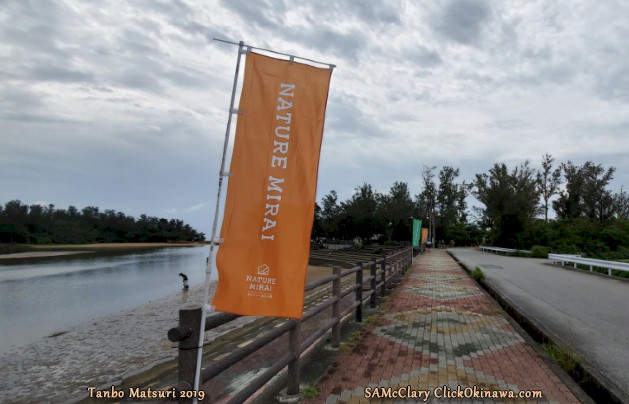 Nature Mirai has some pleasant natural surroundings and I spotted some kayakers having fun on a calm stretch of river which links to the Kin Dam.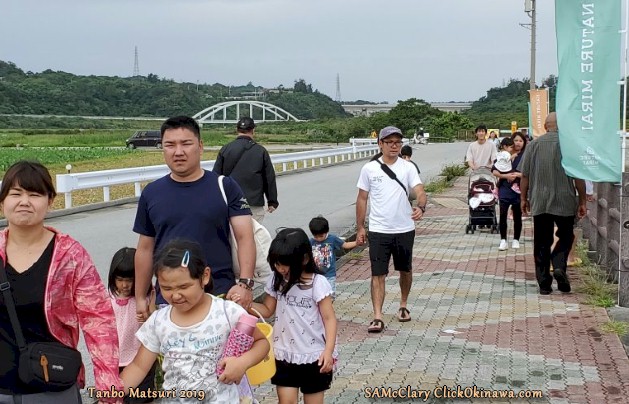 By the time we got there the parking areas had become saturated so we ended up having to drive a ways to a huge parking lot a few km away and take a shuttle back to the Mud Fest venue. A lot of walking and encountering friendly faces all along the way.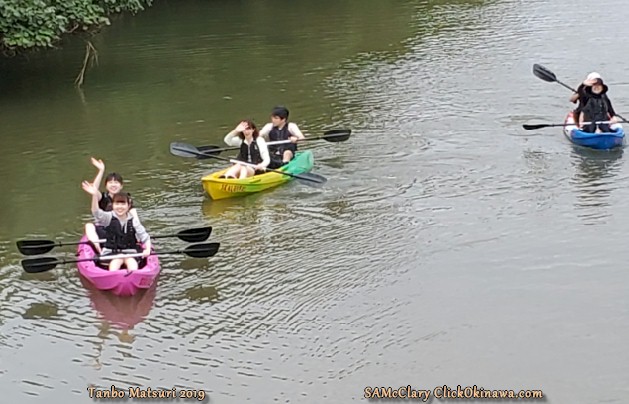 Kayaking on the Okokubigawa (gawa is river) down a ways from the mangrove forest.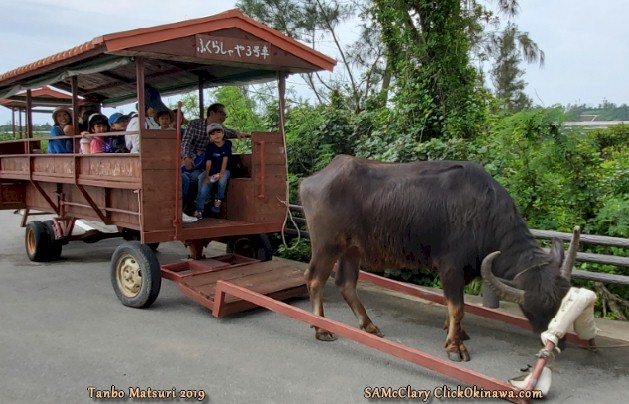 Typically one would expect to have to fly or ferry out to one of the outlying islands in order to enjoy an authentic water buffalo cart ride. But, nope - here ya go! It was fun watching the critter heft the thing over his own head and prepare to take off for another ride.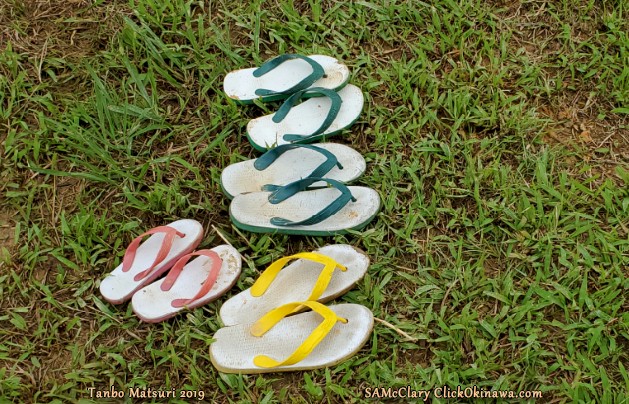 Well, this is the last time you'll see anything this clean! Leave those flip-flops where they fall and prepare to dive into the tanbo! The muddy fun is about to begin.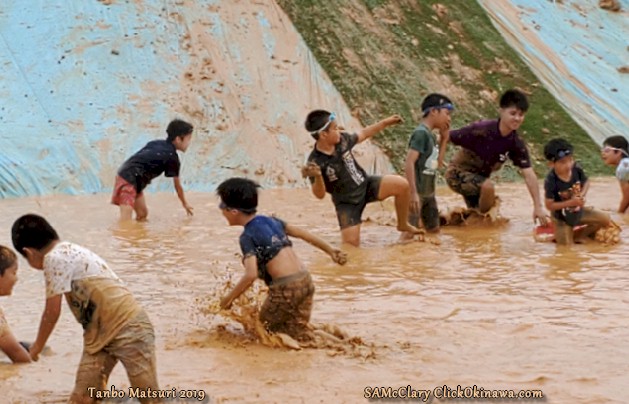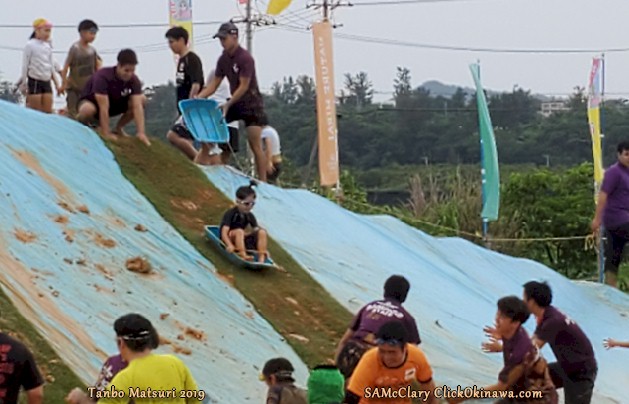 <!xxxxxxxxxxxxxxxxxxxxxx COLUMN TWO xxxxxxxxxxxxxxxxxxxxx> Besides the mud hole there are tons of other things to amuse and entertain young and old. Stage shows, food concessions, ubiquitous souvenir stands, canoe cruises on the River, water buffalo cart rides, and a buch more stuff to keep you busy all day long. Overnight camping is accomodated by the park too.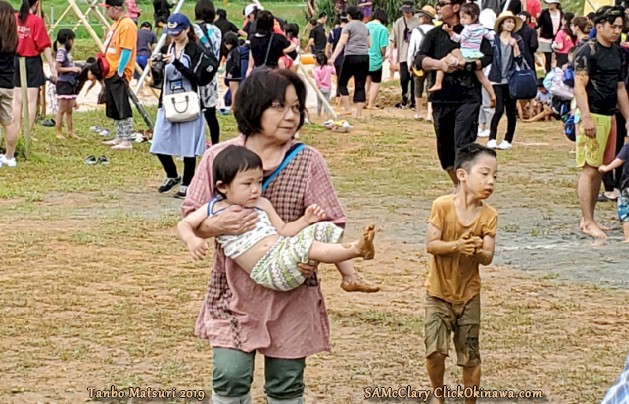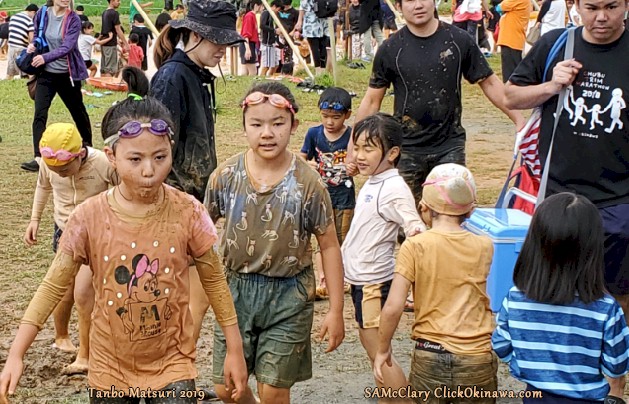 Kinda cool to see super-heroes teamed up with the local constabulary!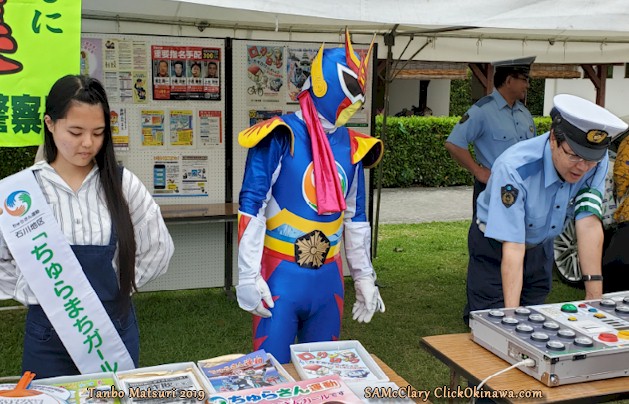 Of course, I can't go anywhere near food vendors without stopping in for a bite. In this case I was really very hungry so eshewed my typical choice of yakisoba and went for the okonomiyaki. Mmmm-aasan!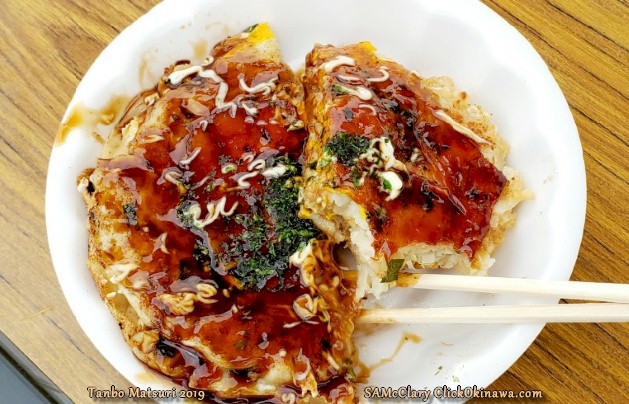 Then came 12:00 noon and the kick-off of Nagashi Somen - this was fun! Gotta watch the video to appreciate. The kids add some broth to their bowl then gather around the flume to collect as many noodles as they can as they float down. The poor kid at the end of the line has pretty slim pickin's.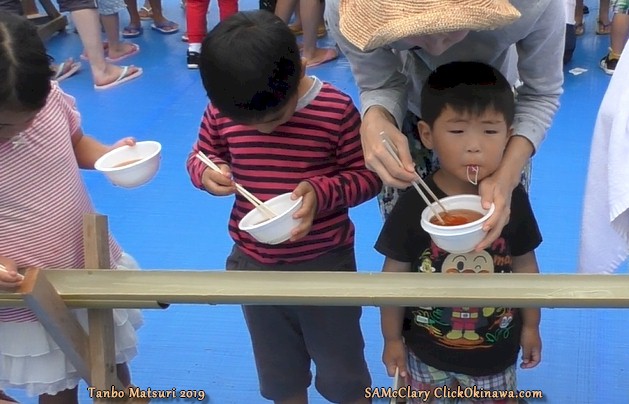 With friends by my side, Mike Lynch, me, and Keith Graff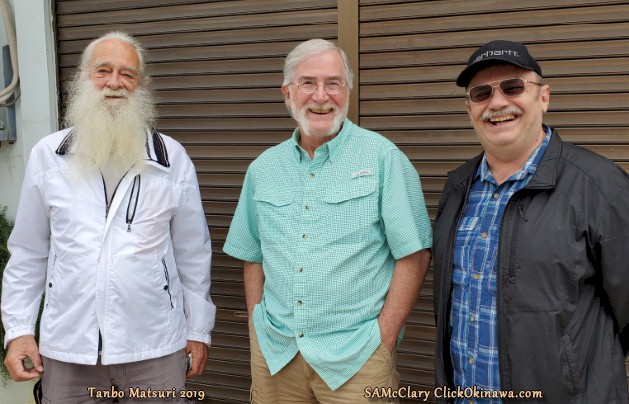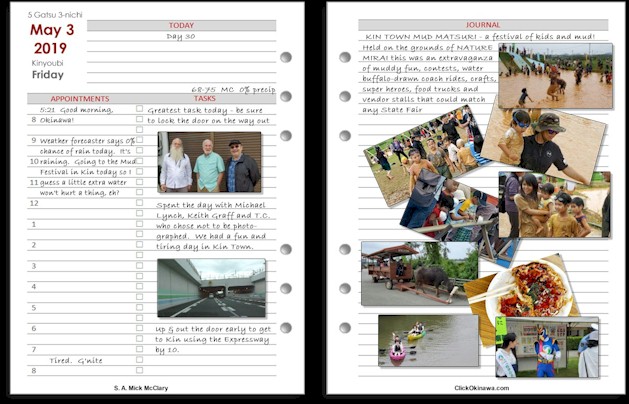 Click the journal entry to get to the videos of Tanbo Matsuri.