<!xxxxxxxxxxxxxxxxxxxxxxxxxxxx COLUMN ONE xxxxxxxxxxxxxxxxxxxxxxxxxxx> Ikei Island (Ikei-jima), also known as Ichihanari to residents of the island, is the easternmost of the Yokatsu Islands. It is connected to the northeastern tip of Miyagi Island by the short Ikei O̅hashi Bridge. The island covers 1.7 square kilometres (0.66 sq mi) and has a coastline of 7.5 kilometres (4.7 mi). The north, west, and south coasts of the island consist of inaccessible steep cliffs, which range between 20 metres (66 ft) and 30 metres (98 ft). Ikei Island is relatively flat. The main settlement is on the west of the island. Ikei Island used to be home to numerous sugarcane farms, but the economy is now focused almost entirely on the tourism industry. Ikei Island is largely agricultural but has numerous archaeological sites, including shell mounds and the remains of a castle, the Ikei Gusuku. The island, which was sighted by Commodore Matthew Calbraith Perry (1794–1858), was recorded as "Ichey Island" in the Narrative of the Expedition of an American Squadron to the China Seas and Japan, published in 1856 by Francis L. Hawks. ¹
Click image to see full-size.
Nakabaru was the most interesting thing that I found on Ikei Island. It's the archaeological site of a 2000-plus year old village, discovered in 1978 ⁵ , consisting of recreations of the style of dwelling that the inhabitants used back in their time. I visited there in 2017 with Michael Lynch - a friend who lives up in Kin. Today some of the huts have been rebuilt to reflect what the traditional dwellings would have looked like. But it's a tight squeeze – if you are small in stature (or a kid) you can manage to take a look inside. A number of the huts have been left open, meaning without a roof, to show how they are constructed. ³
Designated a national historic site in 1986, Nakabaru Village is a small collection of traditional huts from the Jomon Period, and excavations revealed earthenware pots and a variety of tools, such as axes made of stone and needles made of bone. ³
The base of the huts were built with stone and built embedded in the earth to protect them from typhoons. The roofs were reinforced with bamboo and wood, and covered with straw. In the lower parts of the hut, families cooked and slept. The dwellers of the island would have been hunters and fishermen. Archaeologists also discovered a burial ground nearby. ³
Five human skeletons have been unearthed, and are valuable as clues to knowing people's lifestyles, such as burial practices at the time. ⁴ <!XXXXXXXXXXXXXXXXXXXXXXX>
<!xxxxxxxxxxxxxxxxxxxxxxxxxx COLUMN TWO xxxxxxxxxxxxxxxxxxxxxxxxxxxx> There's also a lighthouse that might be worth seeing if you're into lighthouses.
Ikei Lighthouse
Southwest Islands latitude 26 ° 23 '42 ", longitude 127 ° 59' 53"
Color and structure: White, Tower, Concrete
Light quality: Bright and dark white and red light Bright 3 seconds Dark 3 seconds [Iso WR 6s]
Luminous Intensity (Cd): 13,000 candela
Light range: 18 nautical miles (about 33km)
Height [Tower Height, Focal Plane Height] From ground to the top: 13.8m, from water to light: 41m
First lighting [Commissioning Date]: March 28, 1977 [3.28.1977] ⁷
Except for a shrine and a few limestone foundation stones there is little to see of the ruins of Ikeigusuku but I think it's worth the time and effort to ascend to that location just for the sheer beauty of the vista from up there!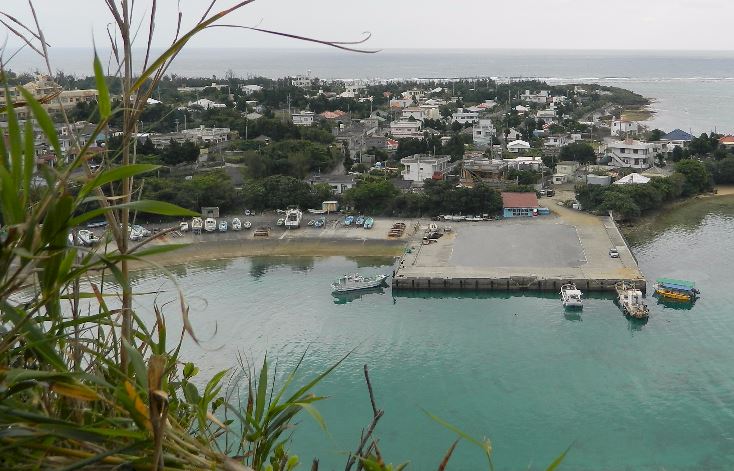 Click on image to see full-view
On 17 April 1945, the U.S. Marine Air Warning Squadron 6 (AWS-6) came ashore to take part in the Battle of Okinawa. The squadron was tasked to set up on three of the Yokatsu Islands on the eastern side of the island with the squadron headquartered at Ikei Island. They were responsible for providing early warning against Japanese raids against American shipping in Buckner Bay and also for guiding many of the aircraft coming in from Guam and Iwo Jima. The squadron's sub-Air Defense Control Center went live on 10 May and they controlled their first nighttime GCI flight on 14 May. On 25 May 1945, 2 boats with enemy personnel landed in the vicinity of AWS-6's position on Ikei Island. Squadron members engaged the enemy killing five and capturing one. AWS-6 remained on the eastern side of Okinawa throughout the remainder of the war. On October 8 & 9, 1945 the squadron weathered Typhoon Louise which caused immense destruction. ²
The squadron remained on Okinawa and continued to train until February 1946. On 12 February they departed Okinawa for the United States. The squadron arrived in San Francisco, CA on 26 February 1946. AWS-6 was officially decommissioned on 28 February 1946 by authority of Chief of Naval Operations Dispatch 251925 & Commandant of the Marine Corps Dispatch 291831. ²
The island is also known for its island artwork. the Ichihanari Art Project showcases many arts works made on the island and is featured every year.⁵
This is still a work in progress. More info will be added as I find what may be useful.
References:

personal experience and observations
¹ en.wikipedia.org/wiki/Uruma
² en.wikipedia.org/wiki/Air_Warning_Squadron_6
³ totalokinawa.com/nakabaru-village-ruins/
⁴ city.uruma.lg.jp/bunka/2399
⁵ okinawanderer.com/2018/09/ikei-island-old-yonashiro-town-%E2%91%A3/
⁷ yamatae.sakura.ne.jp/