Bashofu
is the ancient art of weaving banana fiber into a fine fabric. The weaving is but a small and final step in the production of this valuable and highly sought-after material.
Bashofu is also the title of a popular folk song



The process begins, of course, with cultivating the basho tree which produces the specialized type of banana. It can take up to two years for the plant to mature. Creating the fabric calls for a very patient artisan since it takes from 3 - 6 months to accomplish.
The process includes cutting the banana stalks and peeling them apart layer by layer, then boiling the fiber in a wood-ash solution, then scraping, drying and separating the fibers with your fingernails, then tying them together, then hand spinning. Then there's dying, more steaming, outdoor drying, then putting the fibers on the loom. Then the weaving starts and just when you think it's almost done, there's more boiling in wood-ash, soaking in rice powder and gruel, and stretching and drying. Then hand-rubbing with an inverted tea cup finished the long process. It takes 200 trees to make just one kimono!

Bashofu weaving is seen in no place other than Kijoka in Ogimi Village.
---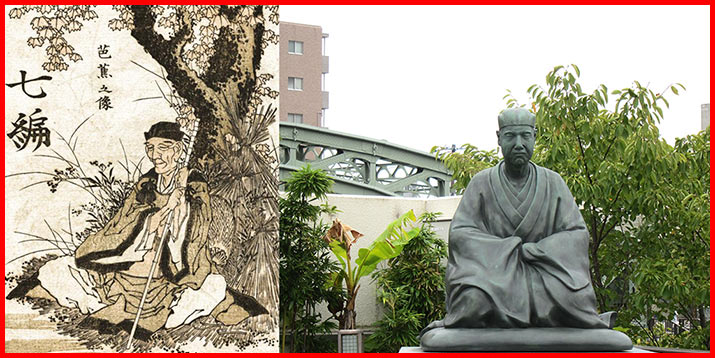 Click photo to see enlarged image.

In the 17th century, Matsuo Basho (born as Matsuo Chuemon Munefusa) was the most famous poet of the Edo period in Japan. He had a small house along the Sumida River, and a banana tree (basho) in his yard.
About the tree he wrote,

"I sit underneath it,
and enjoy wind and rain
that blow against it."

He liked the banana tree so much he named the house, and published his poems under the name Basho.

Basho's house is long gone, but there's a delightful Basho memorial park overlooking the Sumida River and it's the perfect picnic destination. Along with a bronze statue of the poet are bamboo plants, banana trees, and little benches.

Basho wrote this haiku on a day in March, listening to a quiet rain and sitting in his house along the river:


The old pond —
a frog jumps in,
sound of water.

Basho was also a traveler, and one day he left his house, put on a sturdy hat and rain cape, and started walking. On his hat he wrote, "Soon, cherry blossoms."

Basho followed routes, going north and south in Japan over many years, writing what he saw, along with exquisite haiku. Reading Basho's words today, it's hard to imagine he lived over 300 years ago, his poems are timeless.

In a way
It was fun
Not to see Mt. Fuji
In foggy rain
---
Basho was born around 1644, somewhere near Ueno in Iga Province. His father may have been a low-ranking samurai,
... read more
---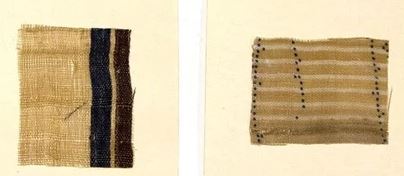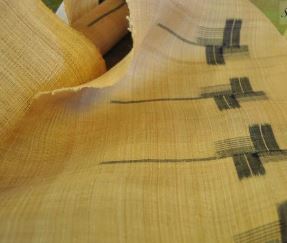 Sources:
seetheworld.travelforkids.com
okinawahai.com/bashofu-weaving-factory
ryukyuheritagetextiles.com
visitokinawa.jp
okistyle.com
YouTube.com
poemhunter.com
japanupdate.com