<!xxxxxxxxxxxxxxxxxxxxxxxxxxxx COLUMN ONE xxxxxxxxxxxxxxxxxxxxxxxxxxx> Ask someone today about Okinawa's railroad system and they'll immediately speak of the Yui Rail but I wonder how many know about the birth of rail service on their islands.

Prior to the World War II, railways were in use in various places, but all disappeared during and after the war. The first rail line laid down in Okinawa during the Meiji period was a hand-car in Minami Daito. Other lines arose in locations that are present-day Nishihara, Kadena, and Itoman. The islands of Ishigaki and Miyako also had lines to move sugar cane, and Iriomote had handcar lines for the coal mines. Kita and Minami Daito Islands had similar lines for phosphate mines.
Before the war (e.g. prior to 1945) there were only 335 vehicles registered on Okinawa. In addition to those at that time there were seven railroad and streetcar lines. Ten steam locomotives plied the island's narrow-gauge tracks and none of them exceeded 13 horsepower! Trains operated from 7:00 a.m. till 11:00 p.m. There were three gas-powered street cars serving passengers in the Naha area. By 1969 there were over 50,000 cars, trucks, and buses registered on island.
Okinawa Prefecture's first rail car, operated by hand, came upon the scene in 1902. Later came horse-drawn street cars then steam-powered. Its first railroad began in 1914 and connected Yonabaru and Naha Port with 12 stations along the route. The track was about 5 miles in length. It was a narrow-gauge railway that eventually had three routes: Naha-to-Yonabaru, Naha-to- Kadena, and Naha-to-Itoman. It served passengers as well as freight. The railroad remained in operation until March 28, 1945. In April, 1914, a tram car line was formed by the Okinawa Electric Tramway Corporation and established a line between Naha and Shuri. Some time later another transportation venture was launched – the Okinawa Power Corporation ran an electric tram but its existence soon faded away due to expense and poor turnout of passengers.
In May, 1922, the Prefectural Railway began a rail line between Maeiji hashi and the small town of Kadena.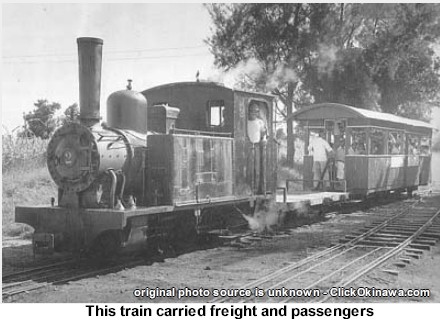 A people mover operated within the grounds of the Expo '75, the Okinawa International Maritime Exposition, from July 20, 1975 to January 18, 1976. The 1.4 km line connected North Gate Station and South Gate Station, making an intermediate stop at International Plaza Station.
<!xxxxxxxxxxxxxxxxxxxxxx COLUMN TWO xxxxxxxxxxxxxxxxxxxxx> In June, 1955, the U. S. Army acquired an old Japanese railroad station, once called the Kuwae Station. The building had suffered only mild damage during the 1945 battle. The army used it for target storage at Moskala Range. The building was razed Dec 9, 1965.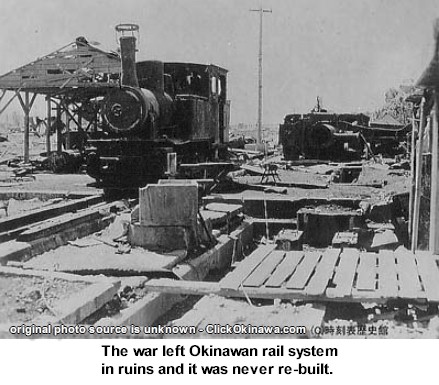 In 1996 construction began on the Yui Rail mono-rail, operated by the Okinawa City Monorail Corporation, and began operating on August 10, 2003. It is the first and only rail line to operate on Okinawa since the end of World War 2. It was created to provide a more effective public transportation system option to the infamously inefficient bus system. There are stations at Naha-kuko, Akamine, Oroku, Onoyama-koen, Tsubogawa, Asahibashi, Kencho-mae, Miebashi, Makishi, Asato, Omoromachi, Furujima, Shiritsu-byoin-mae, Gibo, and Shuri. Each monorail train has 2 cars with 65 seats and the capacity to hold 165 passengers. During peak periods a train runs every six minutes.
Although the monorail is efficient for those who live within range of the system, it might be time for Okinawa to consider the development of a tip-to-tip sustainable public transportation system. We all enjoy the freedom offered by the ownership of a car but imagine the freedom to be granted without the costs associated with the car ownership, and the cost that this has placed on the sustainability of the natural beauty of our island.
Plans are currently underway for extension of the Yui Rail line as far north as Kadena. Further planning, although remote and not to happen anytime in the near future, calls for extension to Nago.
References:

TIMELINE: Okinawa (unpublished) S.A. Mick McClary, 2020
http://www.japanupdate.com/2015/05/light-railroads-have-long-history-on-okinawa/
Typhoon Alley, published by Life on Okinawa, July 1969 issue
JapanUpdate.com July 27, 2014
https://en.wikipedia.org/wiki/Rail_transport_in_Okinawa
The Okinawan Reversion Story, Gordon Warner ©1995
Okinawa: a Tiger by the Tail, M. D. Morris ©1968